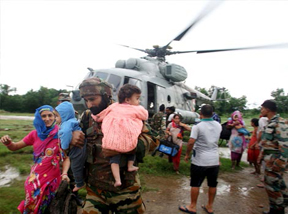 SRINAGAR: Over 1000 Army personnel and their families are stranded in various camps in Kashmir without food and water even as Army personnel work on a war footing to evacuate civilians from their marooned homes.
"Many camps of Army located in South Kashmir and Srinagar have been flooded and over 1000 Army personnel and their families are stranded without food and water", an Army officer said.
Army personnel working round-the-clock to evacuate lakhs of people trapped in flood-ravaged areas are yet to reach to them.
With water, electricity, supplies and other services hit, Army personnel have adopted measures to conserve resources so that major share of supplies are made available for the civil population, he said.
There are over 20 small and big army camps located in Central and South Kashmir belts, which are affected due to floods.
On September 8, the Army had rescued 1400 of its personnel and their families including 120 children trapped in Kashmir's Army headquarter at Badamibagh cantonment.
Badamibagh Cantonment, which houses Kashmir's Army's headquarters and biggest Military hospital along with areas of Shivpora and Indranagar, got submerged as the water level rose alarmingly due to breach in Jehlum River on September 7. –PTI