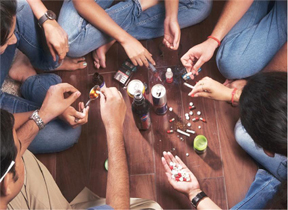 NEW DELHI: There are about 2.3 lakh opioid dependent people in Punjab, of whom 76 per cent are aged between 18 and 35 years, and heroin is the most widely used opioid, a recent government survey has found.
As per the report of the survey, commissioned by the Union Ministry of Social Justice and Empowerment and supported by the state government, about 99 per cent of the drug addicts are males and 54 per cent are married.
"A large majority (89 per cent) are literate and have some degree of formal education. About 56 per cent of opioid dependent people belong to rural areas and almost all 99 per cent report Punjabi as their mother tongue.
"Most common opioid drug used by this group is heroin (53 per cent), followed by opium, doda and phukki (33 per cent).
The rest (14 per cent) reported using a variety of pharmaceutical opioids. About one-third take their opioid drugs through injecting route and among them almost 90 per cent (29 per cent overall), inject heroin," the report said.
The survey covered 3,620 opioid dependent individuals across 10 districts – Bathinda, Ferozepur, Gurdaspur, Hoshiarpur, Jalandhar, Kapurthala, Moga, Patiala, Sangrur, Tarn Taran – which together house about 60 per cent of the population of Punjab.
The 'Punjab Opioid Dependence Survery' (PODS) was jointly conducted by the Society for Promotion of Youth and Masses and the National Drug Dependence Treatment Centre of AIIMS.
The report, which has been released by the state government, also highlighted a huge gap in the availability of treatment services for opioid dependent individuals – despite significant demand.
While as many as 80 per cent of opioid dependent individuals tried to give up, only about 35 per cent received any help. Evidence-based, effective treatment has been received by a miniscule proportion.
"Admission to a de-addiction centre", which appears to be the most focused-upon addiction-treatment strategy in the state, is reported by just about 8 per cent individuals in last year.
"If the treatment strategies remain focused on only a single modality of treatment (i.e. "admission to a de-addiction centre"), it will take about 10 years to provide a single episode of treatment to the entire opioid dependent population in the state," the report states.
A national survey, conducted in 2001 using a different methodology, estimated the entire country's opioid dependent population to be at 5 lakhs.
The findings also indicate that there is a huge illegal market of opioid drugs in Punjab. The study provided data on average expenditure on opioid drugs incurred by the opioid dependent persons per day.
"After multiplying the figures on expenditure with the estimated number of dependent users in the state, we can project that opioid dependent people are spending around 20 crore rupees per day on opioid drugs. This amounts to an annual expenditure on opioid drugs to be about Rs 7,575 crore," it says.
The report also states that evidence-based and preferred treatment option OST is scarcely available to the affected people in Punjab.
"Opioid Substitution Therapy (OST, which involves providing an opioid medication like buprenorphine to the patients on a long-term basis) is the most evidence-based treatment modality which has been endorsed by the United Nations and the World Health Organization as well as the Indian Psychiatric Society. In Punjab, less than 10 per cent of patients have received OST 'ever'," it says.
Findings show that opioid dependence is no longer concentrated only in some urban areas and has spread across the state.
In all the surveyed districts, estimates of opioid dependent people run into thousands. In fact, across the state, about 55 per cent of opioid dependent population belongs to rural areas.
Experts, to deal with this, have recommended healthy mix of short-term and long-term strategies, inter-sectoral coordination among various stakeholders.
Among short term strategies it would be crucial to strengthen the treatment services for opioid dependent people.
Relying on the singular approach of de-addiction centers is unlikely to be helpful, since opioid dependence is known to be a chronic, relapsing disorder.
"In this respect, this condition is much similar to diabetes or high blood pressure (which require long-term management) as opposed to malaria or typhoid (which can be managed by short bouts of treatment).
"Thus, the state needs a judicious combination of multiple strategies that includes (a) providing both short-term (detoxification) and long-term treatment (such as OST), and (b) providing treatment at both outpatient as well as inpatient settings," the report says.
Consequently, it would be imperative to shift the focus from 'de-addiction centers' (providing in-patient services) and to expand the basket of services by establishing 'Drug Dependence Treatment.-PTI