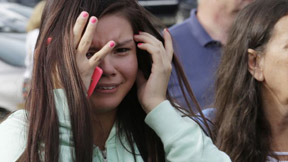 WASHINGTON: In yet another tragic shooting in a US school, a student opened fire in a school cafeteria, killing one student and critically injuring four others before taking his own life, police said.
The shooting occurred yesterday in the cafeteria of Marysville-Pilchuck High School, 55km north of Seattle in Washington State.
The shooter was identified as Jaylen Fryberg, who was recently named the school's homecoming prince.
He shot himself and died, the police said.
Eyewitness said the shooting began from cafeteria.
Before turning the gun onto him, Fryberg killed one girl student. Two other girls and two boys were wounded. The injured were taken to a nearby hospital.
The four injured, including two cousins of the gunman, were shot in the head, the BBC reported.
Zach Yarbrough, a junior, told the local Seattle Times that he saw the shooter "extend his arm across a round table and fire his gun three to four times."
He watched the shootings but didn't see what happened afterward because he "was already out of the cafeteria."
One of the injured students, Jarron Webb, 15, said the shooter was angry about a romantic relationship he was involved in, and that the girl was one of the people shot.
He said he believes one of the victims was his friend since kindergarten, the daily reported.
According to CNN, the shooter used the gun of his father.
It is a "high capacity" weapon, the channel reported.
The school was locked down after the gunshots in the building, the school district said.
The FBI is sending its personnel to assist local officials in investigation.
This was the second shooting incident in a school in the region this year.–PTI