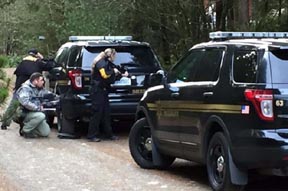 BELFAIR, US: A gunman killed four people in a home in rural Washington State before fatally shooting himself after an hour long standoff, authorities have said.
The gunman yesterday called authorities to say he shot and killed his family near the town of Belfair, across the Puget Sound from Seattle, Mason County sheriff's Chief Deputy Ryan Spurling said. A girl who survived has been taken to the hospital for an evaluation.
The gunman "apparently came outside the home and shot himself," Sheriff Casey Salisbury said. "It's a terrible tragedy."
Authorities negotiated with him for about three hours before a SWAT team stormed in to the house in a heavily wooded area just off a gravel road and found the people dead. The gunman shot himself, Spurling said.
Jack Pigott, who lives down the road, said he heard gunshots Thursday night but none yesterday.
The couple who lived in the house about 25 miles southwest of Seattle were in their 40s and had been married for four or five years, Pigott said. The wife had two teenage sons who were adopted from Russia during a previous marriage. She also had a daughter who was adopted from China.
Pigott said the husband had a heating and air conditioning contractor business. He had recently been hospitalized, Pigott said, but he didn't know why. When he returned home, he was on a lot of medications, Pigott said of the man.
Pigott said it was common for the family to do shooting practice and that's what he thought when he heard the gunshots. He says residents know each other in the area that has homes with large lots with room for horses.
The SWAT team went in around 12:30 pm (local time), Spurling said. Officers said they had 11 buildings to clear on the property but reported they had found the bodies shortly after entering the first building.
The shooting comes days after a 26-year-old man shot and killed his parents and two younger sisters before taking his own life at the family's home in Phoenix. –AP