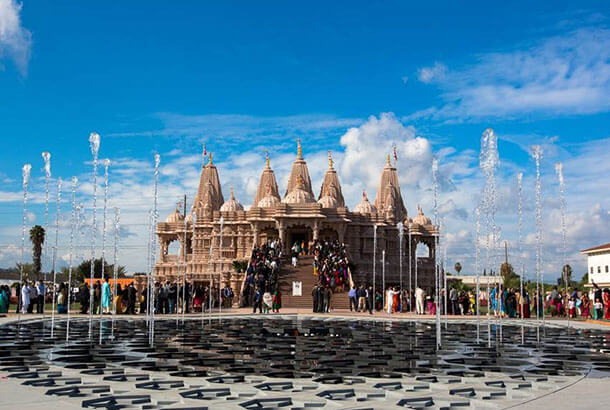 NEW YORK: Five men who had worked at a Bochasanwasi Shri Akshar Purushottam Swaminarayan Sanstha (BAPS) temple have filed a case in a federal court alleging that they were made to work as "forced labour" in the construction and maintenance of the shrine in New Jersey, according to court documents.
The case was filed on Tuesday in a federal court in New Jersey on behalf of the men described in the court papers as Dalits from Rajasthan, who had worked at the Shri Swaminarayan Mandir in Robbinsville, which is reportedly the largest Hindu temple in the US.
They allege that the defendants in the case � those who recruited and supervised them � "weaponised" the caste system to "coerce" the men from Dalit castes because of their vulnerabilities in India.
Their 42-page case document, which was obtained by IANS from the court system, alleges that they were made to work at the temple for more than 12 hours a day, seven days a week with days off only occasionally for which they were paid less than $1.20 an hour � an amount far less than the state minimum wage that was $10 in 2019 and $11 in 2020.
Their court papers, however, say that they were instructed while applying for their visa to tell the US embassy staff that they were going to the US for "volunteer work at the temple" and "would be performing the work as a service to the deities" even though they assert that they were not members of BAPS.
According to the court document, although came to the US with an R-1 visa, which is granted to missionaries and religious workers, they did not perform any religious work and instead were made to do "dangerous" manual work at the temple.
The men filing the case are Mukesh Kumar, Keshav Kumar, Devi Laal, Niranjan, Pappu, and Brajendra. They asked the court to treat their case as a class action suit, which would automatically include about 200 workers who they said had worked there under similar conditions.
The case lists as the defendants in the case four BAPS organisations and five individuals who it says are connected to the temple and were their supervisors.
They could not be reached for their reaction, but the New York Times quoted one of them identified as Kanus Patel telling it, "I respectfully disagree with the wage claim."
The newspaper also reported that BAPS Spokesperson Lenin Joshi said, "We are naturally shaken by this turn of events and are sure that once the full facts come out, we will be able to provide answers and show that these accusations and allegations are without merit."
New Jersey 101.5 radio station reported that Homeland Security and Federal Bureau of Investigation (FBI) agents were at the Shri Swaminarayan Mandir on Tuesday, according to a local official. It added that FBI spokeswoman Doreen Holder said in an email, "The FBI is there on court-authorised law enforcement activity. No further comment."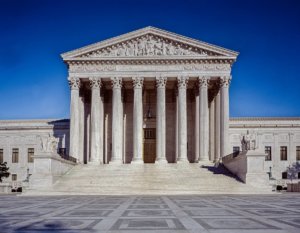 The radio station also said that the state Labour Department had "issued a stop-work order on April 30 against Cunha's Construction Inc. and owner Nuno Cunha based on repeated and ongoing violations of state wage and hour laws after visits to the BAPS temple in Robbinsville and Edison."
But that contractor does not figure in the court papers.
Just last week Surgeon-General Vivek Murthy had praised the BAPS at a White House briefing on Covid-19 response last week for its involvement in the Covid-19 vaccination effort.
He said, "I want to highlight BAPS Charities, a Hindu-American organisation that has turned their temples into vaccination centres. For elderly members of these temples, it's been easier to get vaccinated at their own temple, surrounded by trusted friends and familiar settings, than it may have been for some of them to get vaccinated at an unfamiliar location."
According to the court document, the workers allege that their passports were taken away on their arrival in the US and they were not allowed out of the temple complex alone and they were watched with cameras and guards.
They assert that they were paid only $450 per month, of which they received $50 in the US and the rest were deposited in rupees in their accounts in India. They alleged that their pay was cut if they spoke to outsiders or if they did not follow rules like wearing helmets.
One of the workers identified as "Moham Lal died while he was subjected to forced labour at the temple" and that the officials mentioned in the case retaliated against the workers who demanded that the man's final rites be conducted according to their tradition and that their working conditions be improved. The case papers allege that the "defendants intentionally recruited workers from the Scheduled Caste, also known as Dalit, and other marginalised communities in India" because of their vulnerability "did what they could to remind these marginalised workers of their place in the social hierarchy."
They allege that a swami "called the workers 'worms,' thus exacerbating the psychological coercion the workers experienced." While applying for visas they were allegedly told the embassy staff that they would be doing decorative painting or carving work known as nakkashi on stones for the temple.
But because the nakkashi work was done mostly in India, they allege that they ended up "cutting stones, laying stones, removing garbage, road work, dipping stones in chemicals, and other tasks."
There has been a high profile case of case of "forced" labour of Indian men in the US. In that case involving an American company, a federal court in 2015 ordered it to pay five of them $12 million. Most of them were from Kerala. Signal International had recruited about 500 Indian men to repair oil rigs and facilities damaged by Hurricane Katrina in 2005 in Mississippi reportedly with promises of green cards after they had paid $10,000 to recruiters.
But when they arrived in the US they found they were not going to get green cards and were made to pay $1,050 per month to live in restrictive labour camps. With 11 more cases pending against the company, it declared bankruptcy and settled all the cases for $20 million.