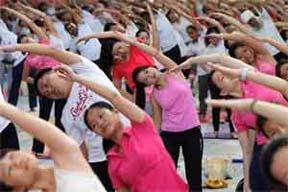 MUMBAI: About 54 per cent of health insurance policy holders self initiate the buying process of the health cover, according to a survey.
"More than half of the owners (54 per cent) self-initiate the purchase process," according to Max Bupa Health Insurance Pulse 2015.
However, only 40 per cent health insurance policy renewals were self-initiated by the owner, it added.
Max Bupa Health Insurance Pulse 2015 study was conducted among over 1,500 respondents in metros like Delhi, Mumbai, Chennai and tier I and II cities in states like Hyderabad, Punjab and Rajasthan.
The study also revealed that there is a shift in age groups of health insurance buyers, with 32 years emerging as average age of health insurance purchasers across cities.
In terms of gender related findings, an increasing number of women are becoming the sole decision makers in buying health insurance (55 per cent). Almost two third of them are not aware that new born and in-laws can be covered under health insurance, the study said
Doctors' advice (50 per cent) also is a key reason for health insurance purchase, followed by rise of lifestyle diseases (33 per cent), tax planning (31 per cent) and age (31 per cent), it pointed out.
The study said consumers seek day care treatment (41 per cent), loyalty or renewal benefits (40 per cent) and new benefits like maternity (34 per cent) as significant features in their health insurance cover.
"Health insurance consumers are evolving from being price conscious to being value conscious with majority of them preferring family health plans over individual coverage and opting for a sum insured of Rs 6-7 lakh.
"We have also observed that the most common sum insured individuals opt for is Rs 5 lakh and Rs 10 lakh in case of a family cover. In fact, there has been a two-fold increase in the claims from the segment with a ticket size of over Rs 10 lakh since last year," Max Bupa Head-Marketing Anika Agarwal said.
Among the metros, it revealed Mumbai has better understanding of health insurance with 66 per cent Mumbaikars aware of the distinction between life and health insurance. In Delhi and Chennai, it is 36 per cent and 39 per cent respectively.
The study showed an increasing demand from people living in tier I and II cities to be optimally insured, where Hyderabad recorded the highest average sum insured of Rs 8,70,000, with Rajasthan and Punjab at Rs 4,50,820 and Rs 6,80,270, respectively.
In the metro cities, Delhi feels the most dissatisfied with their current health coverage with 72 per cent of health insurance owners in city saying that their health policy is not enough for their future health needs.
Around 80 per cent of the health insurance owners in Mumbai and 54 per cent in Chennai consider themselves to be adequately protected. -PTI