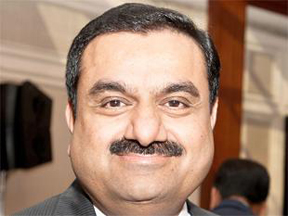 MELBOURNE: Adani group chairman Gautum Adani and Australian mining giant Rio Tinto's CEO Sam Walsh have been appointed as the co-chair of the Australia-India CEO Forum.
"I am extremely pleased that one of Australia's foremost businessmen, Sam Walsh, has agreed to take on this critical role while the Chairman of the Adani Group, Gautam Adani, would be the Indian co-chair," Australia's Trade and Investment Minister Andrew Robb said on Sunday during his ongoing visit to India.
The move has come after Prime Minister Narendra Modi's visit to Australia in November last year where he and the Australian Premier Tony Abbott had agreed to revitalise the Forum, which was established in 2011.
The forum includes Australian and Indian business chiefs from a broad range of sectors, including energy and resources, agri-business, the financial sector, telecommunications, IT, education and pharmaceuticals.
The revitalised Australia-India CEO Forum is expected to hold its first meeting by the middle of the year.
"Strong links between Australia's and India's top business leaders are vital to unlocking the untapped potential of the Australia-India trade and investment relationship," Robb said.
Adani welcomed the leadership the two Prime Ministers had shown in prioritising greatly-enhanced bilateral ties between Australia and India.
"The Adani Group, for its part, is building a long term future with Queensland, and Australia, while looking to deliver energy security in India. Our commitment to delivering nation building infrastructure in Australia is key to our commitment to delivering nation building infrastructure in India," Adani said.
Walsh said he was honoured to accept Prime Minister Abbott's invitation to chair the Forum.
"Rio Tinto has long recognised that India has the people, geography, and political frameworks to be a powerhouse economic force. India has a very exciting future and I look forward to playing a part in developing new investment opportunities in this vibrant nation," he said.
"I will be working hard with Gautam Adani to enhance and further invigorate the business relationships between India and Australia. There is vast potential for greater collaboration between our two nations," he said.–PTI