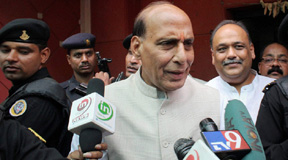 SRINAGAR: The controversial Armed Forces Special Powers Act will be revoked in Jammu and Kashmir when the situation is conducive, Union Home Minister Rajnath Singh today said.
"I want to say that the situation should be such, and I pray to Almighty, that AFSPA should not be needed anywhere in the country. We will need cooperation of one and all to achieve this goal," Singh told reporters here.
The Home Minister, who was speaking after paying obeisance at the Amarnath cave shrine in south Kashmir Himalayas, also ruled out talks with separatists.
Singh's remarks on AFSPA came a day after BJP's alliance partner PDP hit out at Union Minister Jitendra Singh for disfavoring withdrawal of the Act in Jammu and Kashmir, terming his statement "obnoxious and having unacceptable and unpardonable undertones".
Jitendra Singh, who is a BJP Lok Sabha member from Jammu and Kashmir's Udhampur constituency, had disfavored partial withdrawal of AFSPA in the state and underlined that the last word on this would come only from the security agencies and not from political functionaries.
Rajnath Singh, who was on a two-day visit to Kashmir, today said the stakeholders will have to cooperate in order to ensure that the act is revoked.
Revocation of the AFSPA is part of the 'Agenda of Alliance' – the common minimum program – on which the PDP? formed government with the BJP in Jammu and Kashmir.
"While both parties have historically held a different view on the AFSPA and the need for it in the State at present, as part of the agenda for governance of this alliance, the coalition government will examine the need for de-notifying 'disturbed areas'.
"This, as a consequence, would enable the Union Government to take a final view on the continuation of AFSPA in these areas," the agenda reads.
Asked if the Centre had any plans to hold talks with separatist groups in Jammu and Kashmir, Rajnath Singh said, "We have no proposal to hold talks with the separatists in Jammu and Kashmir.
"We are ready to listen (and) talk to anyone but anti-national activities should be opposed and boycotted."
Asked if the PDP-BJP government will last its full term given the differences over various issues between the two parties, Singh said there was no reason to believe otherwise.
"There is no reason to believe that this government will not last its full term," he said.
On the security situation in Kashmir, the Home Minister said, "I am confident that the situation in Kashmir will not be allowed to deteriorate."
"We need the cooperation of people of Jammu and people of Kashmir for improving the situation here," he said.–PTI