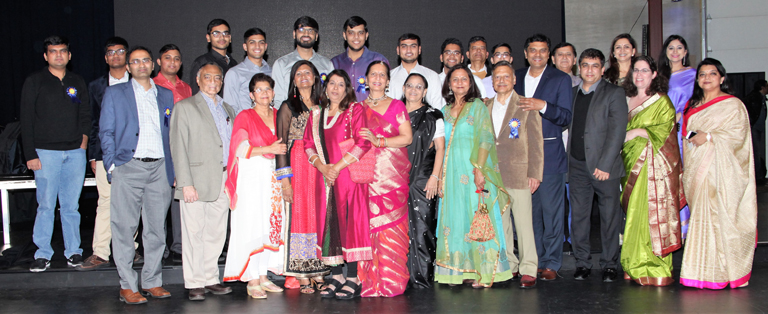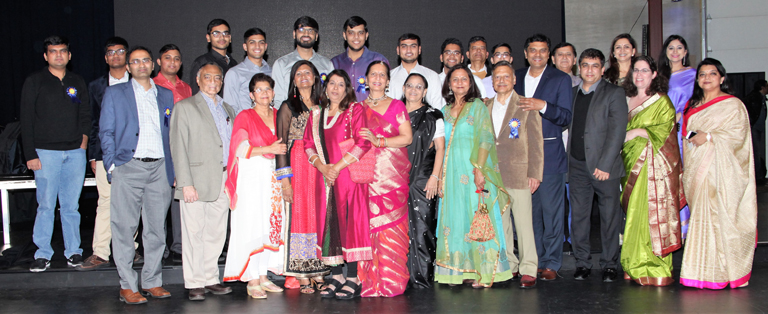 CHICAGO: The Akshaya Patra Chicago Team held a fundraising concert featuring popular singer couple Samir Date and Dipalee Somaiya on November 11 at the Yellow Box auditorium in Naperville, a southwest suburb of Chicago, with over 750 guests and members in attendance helping it to raise $175,000 for charitable activties.
Akshaya Patra isthe world's largest NGO providing midday meals to 1.6 million children 232 days a year in government schools in India. The lead organizers were Himanshu Patel, Saroj Patel, Dipak Kapadia, Pallavi Shah and Ila Vyas. Distinguished guests included two members of the Board of Directors for Akshaya Patra USA – B.V. Jagdeesh and Vandana Tilak, and CEO of Akshaya Patra USA – Emily Rosenbaum.
Making welcome remarks,Himanshu Patel invited B.V Jagdeesh, a successful serial entrepreneur in technology area, to deliver the keynote address. Jagdeesh related his own life story to make the case that the ticket out of poverty for millions of children in India is education. He said,
"We, who are successful, have a collective responsibility to help disadvantaged children in India stay in school. And, one very effective way to do this is to support Akshaya Patra. By providing midday meals in government schools, Akshaya Patra keeps more children in school and improves their learning ability."
Organizers had solicited donations before the event. Four levels of sponsorships – Platinum ($10,000 donation), Gold ($5000 donation), Silver ($2500 donation) and Bronze ($1000 donation) were offered.
Himanshu Patel said, "We're gratified with the level of pre-event commitment. We had five Platinum sponsors, one Gold sponsor, seven Silver sponsors and 38 Bronze sponsors for a total commitment of $111,000. We are very grateful to many long time supporters, and are excited to have many new supporters."
There was a pledge drive during the program and additional $24000 was raised. Dipak Kapadia added, "What was most satisfying was that so many people pledged additional support during the drive. It shows that people in our community, no matter what their income level , support a good cause when they are informed about it. Their generosity is indeed touching."
"Akshaya Patra is one of the most effective large scale charitable organizations in India but its awareness in our community has been low," said Ila Vyas. She added, "We sponsored a Gujarati play two years ago and attracted 750 people, raised $70,000, and created awareness of Akshaya Patra. Now, with a Bollywood music concert, we have more than doubled the amount of money raised."
Saroj Patel explained that Akshaya Patra in Chicago will continue to use both models of fund raising – Benefit Galas focused on high net worth individuals and music concerts to reach a broad cross section of community. Pallavi Shah said, "Samir and Dipalee put on a very entertaining show going a long way in helping disadvantaged children in India".
In partnership with Central and State governments, Akshaya Patra provides freshly cooked, nutritious, hygienically sound meals to disadvantaged children. Many of these children, otherwise, will go hungry, remain malnourished, and become stunted with their cognitive ability compromised. Many will drop out of school and engage in child labor just to get enough to eat for them and their families.
Akshaya Patra operates 31 centralized kitchens in 12 states. It operates with complete financial transparency. It has received the Gold Shield award for "Excellence in Financial Reporting" from the Indian Institute of Chartered Accountants (ICAI) for five years in a row, and is one of three organizations, and only non-profit organization to be inducted in the ICAI Hall of Fame for "excellence in Financial Reporting".
Jayanti Ojha