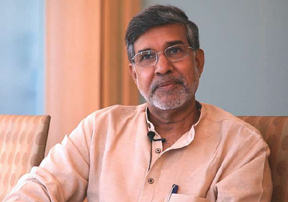 NEW DELHI: Intensifying the battle to fight rights of children, both in India and worldwide, and ending child slavery in his lifetime is now the mission of Nobel Peace Laureate Kailash Satyarthi.
"We are moving towards freedom of children and I am going to see the end of child slavery in my lifetime. 35 years are not too many years in the history of human kind and 35 years ago this was a non-issue in my country as well as world over," Satyarthi said.
"People thought that slavery has been abolished completely and now people have started accepting that children are being enslaved and we have to find an end to it," he said.
The 2014 Nobel Peace Laureate's first book in Hindi "Azad Bachpan Ki Aur" was launched here by Justice Dipak Misra, Judge, Supreme Court of India.
The book is a selection of articles penned by Mr Satyarthi on landmark movements, judgments, events and prominent policy intervention in his three decade long struggle for child rights.
These writings chronicle the fight to end violence against children and provide a historical perspective to the efforts.
"This is my first book and I am proud it has been published in my mother tongue. The collection of articles in this book has been written at the most emotional and physically draining time of my life when I was fighting aggressively to rescue children," Satyarthi said.
Since the 1980s, the activist has been fighting various issues related to children and their rights. The book talks about issues of child labor, rescue operations, trafficking, child slavery, sexual abuse against children and illiteracy.
"This book brings Satyarthi's work which has been instrumental for judicial deliberation in respect of cases pertaining to trafficking, missing children, child labor and abuse. I am certain that the book will serve as an inspiration for all to work towards building a better future for our children," Misra said. . Kailash Satyarthi Children's Foundation which released the book has been formed to scale up the impact of the Nobel Laureate's vision and work globally. The foundation is taking forward his mission to integrate different issues like health, education, protection of children, malnutrition, laws.
"This foundation is going to take up this issue of more integrated and co-ordinate programs for children globally and in India. So we have to define more integrated robust policies internationally as well as nationally and combine all these aspects," Satyarthi said.
According to the child rights activist, a second and very important source to stand up more the millions of children who suffer atrocities is the youth. He said he thinks that the youth has a major role to play and is soon going to start a historic campaign engaging the youth.
"I am working on history's most ambitious campaign engaging young adults. 100 million children are victims of various forms of violence. So I want to engage 100 million plus young adults to be the champions and spokesperson for these children," he said.
"Let us create a new generation of heroes. How long we will keep looking at cinema screens for our heroes or our cricketers. Every single young person is a hero and let us find that hero who will fight to end child slavery," Satyarthi said.
The book has been published by Prabhat Prakashan and will be available at the upcoming World Book Fair 2016.–PTI