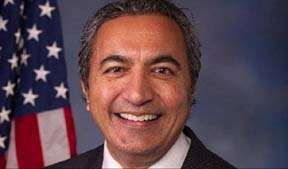 WASHINGTON: Indian-American Congressman Ami Bera's 83-year-old father has been jailed for one year and a day for organizing a money-laundering scheme that illegally funneled around USD 260,000 to his son's congressional campaigns in violation of the US federal law.
Babulal Bera, a retired chemical engineer who emigrated to the US from India, was handed down the prison term yesterday by US District Judge Troy L Nunley.
California Congressman Ami, 51, the only Indian-American lawmaker in the US Congress, was not in the courtroom when the sentence was pronounced.
"This is more than just a naive person who doesn't know how elections work. The defendant's efforts were calculated," Nunley said during the sentencing hearing in Sacramento, California.
Earlier in May, Babulal had pleaded guilty to the charges of funneling around USD 260,000 in illegal contributions to his son's campaign through straw donors.
Ami, who has denied that he knew about it, is seeking his third term from a tightly contested seat in California. He won the first two elections after recounting of votes.
Pollsters predict a similar closely contested election this year too with his opponent Sacramento County Sheriff Scott Jones seeking to make this a political issue in the seventh Congressional District of California.
"This is one of the most difficult moments my family has ever experienced. My dad is 83-year-old and my mom is 82, and Janine and I are worried about both of my parents.
"Of course I'm absolutely devastated and heartbroken for how today's decision will impact our entire family. But my father has accepted what he did was wrong, he has taken responsibility and I love him more than words can express," Ami said in a statement after the court's order.
Prior to hearing, acting US Attorney Phillip A Talbert said neither Ami nor his campaign knew about Babulal's activities.
"Congressman Bera and his campaign staff have been fully cooperative in this investigation. To date, there is no indication from what we have learned in the investigation that either the congressman or his campaign staff knew of, or participated in, the reimbursements of contributions," Talbert said.
According to federal prosecutors, during the 2010 and 2012 election cycle, Babulal facilitated 130 improper campaign contributions totaling over USD 260,000 and involving approximately 90 contributors living in multiple states.
"Mr Babulal Bera knew the law when it came to campaign contributions, but he tried to beat the system using straw donors," said Monica Miller, special agent in charge of the FBI Sacramento field office.
"The District Court gave thorough and thoughtful consideration to the arguments of both parties in imposing sentence. That sentence, which is significant given this defendant's age, sends a clear message that campaign finance crimes are serious offences that will result in real consequences," Talberthe added.–PTI