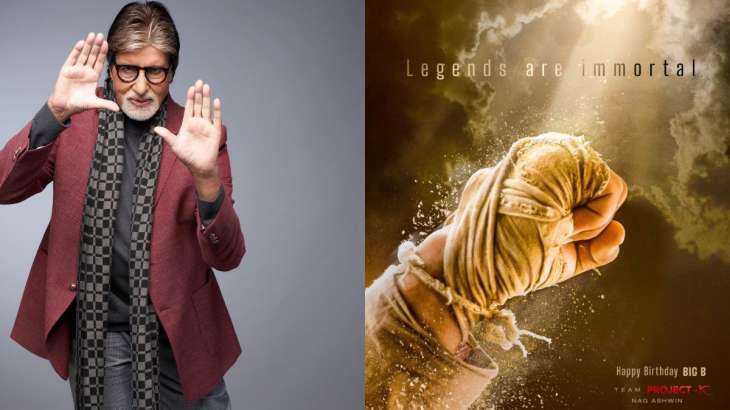 MUMBAI: Bollywood superstar Amitabh Bachchan said that he sustained injury during the shooting of his upcoming film, Project K, in Hyderabad.
Big B took to his blog to share on Sunday that he has broken his rib cartilage and stated that he is currently taking rest at his home in Mumbai.
"In Hyderabad at shoot for Project K, during an action shot, got injured, rib cartilage popped broke and muscle tear to the right rib cage. Cancelled shoot, did doctor consult & scan by CT at AIG Hospital in Hyderabad and flown back home," posted Amitabh Bachchan.
The suffered injury during an action sequence of the film. He unfortunated suffered a muscle tear to his right rib cage.
"Strapping has been done and rest been advocated .. yes painful .. on movement and breathing .. will take some weeks they say before some normalisation will occur .. some medication is on also for pain .. So all work that was to be done has been suspended and canceled dropped postponed for the moment until healing occurs ..I rest at Jalsa and am mobile a bit for all the essential activities .. but yes in rest and generally lying around …" Big B wrote.
Expressing his anguish the actor added, "It shall be difficult or let me say .. I shall be unable to meet, the well wishers at Jalsa Gate this evening .. so do not come .. and do inform as much as you can to those that intend coming …All else is well …" he posted.
Helmed by Nag Ashwin, Project K is a bilingual film shot simultaneously in two languages i.e Hindi and Telugu across various locations. Deepika Padukone and Prabhash are playing the pivotal roles in the film.
In this time of distress, Amitabh Bachchan said he has found his solace in the words of his 'Babuji'.
The actor wrote in his blog, "Getting time to spend time with Babuji and his genius, his mind his words and his immense creativity .. the essence of life resides in his writings .. and such a learning and amazed joy to be in his company ..There is desire to share .. to share what ever little that I may interpret from his words and his memories of the times spent with him .. to lament the limited .. to be in awe of the vision and the intellect of such a being .. and wonder how ever did one think of all that was written spoken thought by him .." (ANI)