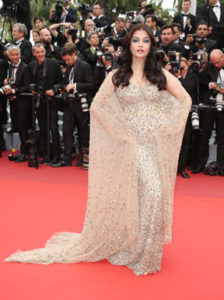 Aishwarya, Sonam bedazzle the Red Carpet
At the Cannes International Film Festival, both Aishwarya Rai Bachchan, and Sonam Kapoor chose sassy, bold and experimental looks and pretty much collectively won our hearts.
Aishwarya, who opted for bold colors like golden, red and purple, made statement after statement with her long flowing gowns, and high-definition make up. This look seems to be the flavor of the season, as Sonam Kapoor also steered clear from too many prints or layers, and stuck with a white flowing gown and a black/blue saree for her appearances.
Marking her 15th year at Cannes, Aishwarya's first look on the red carpet was a golden Ali Younes Couture gown, which dazzled in golden, which is what you get when you mix golden, sheer and glitter. Aishwarya also chose to go bold with her eye make up with smokey blue eye-shadow and bold lashes.
Her next few looks through day two and day three, were muted, yet blingy and Aishwarya stuck to the theme of one color ruling the roost.
She flaunted a red ruffled gown from New York-based designer Naeem Khan for press interactions. She was also representing the brand L'Oréal.
Later, for the Sarbjit press conference and screening, which is her upcoming film directed by Omung Kumar, she wore a Rohit Bal ensemble in golden and brown. Sheer gown, bold lips for the win! Owning this motto is Aishwarya's look on her finale day where she appeared on the red carpet with her Sarbjit team. For all those who complained about Aishwarya playing too safe all these years, this is her answer.
Stunning picture
Already having won laurels for her pre-red carpet appearances at the French Riviera, Sonam Kapoor cut a stunning picture while walking on the red carpet of the Cannes Film Festival.
Considered Bollywood's biggest fashionista, the actress' appearances on the red carpet have always generated buzz. Walking on the red carpet of the prestigious film festival for the sixth year in a row, the actress bedazzled the red carpet.
The actress sported a custom gown in a pristine white hue by Ralph & Russo that came with peek-a-boo cutouts and a dramatic embroidered train.
And if you loved the way the gown looked from the front, then the way it looks from the back will leave you spellbound!
The actress finished the look with jewels from Chopard. Keeping her beauty look simple, Sonam chose to go chic with centre-parted hair and gold eyes.
For the first time in six years, Sonam also attended the prestigious amfAR gala, established to raise funds for the fight against AIDS.
The speculation around Sonam Kapoor and Aishwarya Rai Bachchan is unparalleled. Twitterati had a blast through the weekend dissecting both their looks.
Aishwarya, who is busy promoting her film "Sarbjit", says she was not under stress about her red carpet look. "I was not nervous (for the look at the Cannes) as it has been 15 years representing L'Oreal here. I have been a part of the jury here for two years or so and had come here for 'Devdas'.
"I belong to showbiz forever so plain dress up has become a way of life depending upon the occasion," Aishwarya said in an interview here.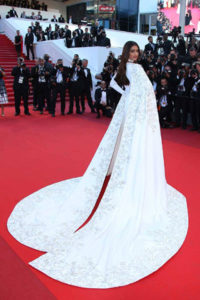 The former Miss World was not bothered by the fashion police as she walked the red carpet at the festival.
"I am an actor by my career choice. I enjoy fashion and I treat it like art and I have a life, a family. So, I am not focusing on all of this. So it (look) doesn't stress me out.. It doesn't get me nervous… I am a professional," she added.
"I did not have the time to look at all the choices that the fashion industry was wonderfully keen on spoiling me with, because I was very busy with 'Sarbjit' promotions," she said.
"But within the little collection I had gone through I was prepared for some pieces that had come handy because when we come here it's just that we have to nosedive into the schedule that is pre-planned. But I am having fun with it," she added.
The 42-year-old actress jokingly said she keeps teasing everyone that one day she will walk in white shirt and jeans on the red carpet.