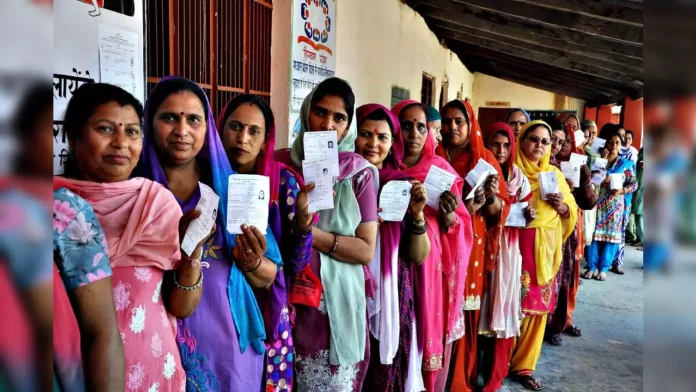 RAIPUR: A voter turnout of 26.97 per cent has been recorded in Chhattisgarh till 11 am, according to the Election Commission of India.
The government data shows the highest voter turnout of 34.65 per cent in Kanker, followed by 32.5 per cent in Kondagaon, 28.84 per cent in Antagarh, 27 per cent in Mohla Manpur, 23.21 per cent in Khairagarh, 23.21 per cent in Kawardha, 25 per cent in Khujji, 18.36 per cent in Jagdalpur, and 19.97 per cent in Bastar. The lowest voter turnout of 9.11 was recorded in Bijapur.
The polling started at 7 am for ten seats, which include Mohla-Manpur, Antagarh, Bhanupratappur, Kanker, Keshkal, Kondagaon, Narayanpur, Dantewada, Bijapur and Konta.
Moreover, voting for the remaining assembly constituencies, which include Pandaria, Kawardha, Khairagarh, Dongargarh, Rajnandgaon, Dongargaon, Khujji, Bastar, Jagdalpur, and Chitrakote began at 8 am.
Some of the prominent candidates in the fray in this phase, include Raman Singh (BJP), Bhawna Bohra (BJP), Lata Usendi (BJP), Gautam Uike (BJP), Mohammad Akbar (Congress), Savitri Manoj Mandavi (Congress), Mohan Markam (Congress), Vikram Mandavi (Congress), and Kawasi Lakhma (Congress).
The state of Chhattisgarh is undergoing elections in two phases, with the second phase scheduled for November 17.
There are a total of 223 candidates in the fray for 20 seats. 5304 voting booths have been set up by the election commission for this phase. There are 40 lakh, 78 thousand, and 681 voters in this phase. Of these, there are 19 lakh, 93 thousand, 937 male voters and 20 lakh, 84 thousand, 675 female voters.
In this phase 13 of the 20 seats are reserved for SC/STs. Overall, in the state, 29 seats are reserved for Scheduled Tribes (STs) and 10 seats are reserved for Scheduled Castes (SCs).
The counting of votes is scheduled for December 3. (ANI)
 Also Read: Bhupesh Baghel to complain to EC on betting app link allegations