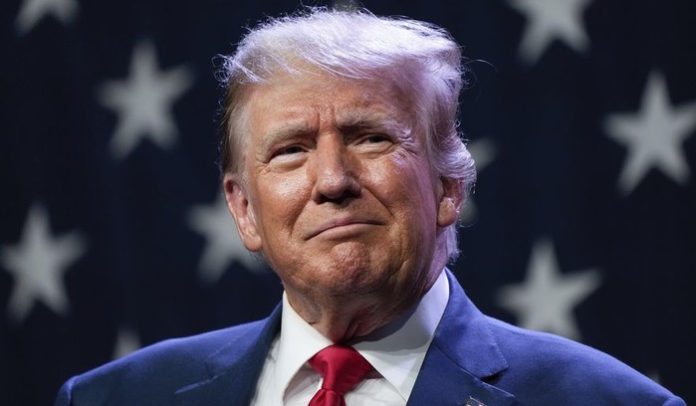 NEW YORK: Former US President Donald Trump is expected to take the stand on Monday to testify in the civil fraud trial, a case that could well decide the fate of his business empire in New York, CNN reported.
The trial brought by New York Attorney General Letitia James, is seeking USD 250 million in damages and barring the former president from doing business in the state.
James alleges that Trump and his co-defendants committed repeated fraud in inflating assets on financial statements to get better terms on commercial real estate loans and insurance policies, as per CNN.
While there are no criminal charges involved, the allegations have enraged the former president, who has attended the trial for multiple days and called it a "political witch hunt".
Before the trial began last month, Judge Arthur Engoron already ruled that Trump and his co-defendants, including his adult sons, were liable for "persistent and repeated" fraud. Now the judge is considering how much the Trumps will have to pay in damages for the profits they've allegedly garnered through fraudulent business practices.
The attorney general's office is also looking to prove six other claims: falsifying business records, conspiracy to falsify business records, issuing false financial statements, conspiracy to falsify false financial statements, insurance fraud, and conspiracy to commit insurance fraud., CNN reported.
On the other hand, Trump has relentlessly attacked James for bringing the case against him. He's attacked the judge for being "biased" against him and has also attacked the judge's law clerk for being "biased".
Also, Trump's conduct at the trial has been a flashpoint, as the former President has already been fined twice for violating a gag order barring him from speaking about the judge's staff.
According to CNN, the civil case is important to Trump because it strikes "at the heart of his persona" as a billionaire real estate tycoon. Notably, the New York attorney general is accusing the former president of inflating his net worth to save hundreds of millions of dollars.
The case also has real consequences for the Trump Organization, as James is seeking to bar Trump from doing business in the state and to dissolve his companies.
The attorney general has accused Trump, his two adult sons, the Trump Organization and several company executives of inflating Trump's net worth by as much as USD 3.6 billion to obtain better terms on commercial real estate loans and insurance policies. An expert witness for the attorney general testifying last week alleged the ill-gotten gains totalled USD 168 million, CNN reported.
However, Trump's lawyers have disputed the allegations, arguing that asset valuations are "highly subjective". They have also attacked the proceedings in Engoron's courtroom as "biased" against the former president, signalling a plan to appeal.
Earlier last week, Eric Trump and Donald Trump Jr. testified distancing themselves from the preparation of the president's annual "statements of financial condition" in which the values of Trump's properties are alleged to have been inflated.
According to CNN, Cohen testified that Trump directed him and Allen Weisselberg, the Trump Organization's former chief financial officer, to inflate the property values, though he then contradicted himself and said that Trump had not specifically told him to do so, but it was implied what he should do. On the other hand, Weisselberg testified that the "meeting never happened".
While Trump has claimed that Cohen's contradictions clear him, Engoron "absolutely denied" a motion from Trump's attorneys to dismiss the case, saying there was still a pile of evidence beyond Cohen, CNN reported. (ANI)
Also Read: Donald Trump fined USD 5000 for derogatory post on campaign website