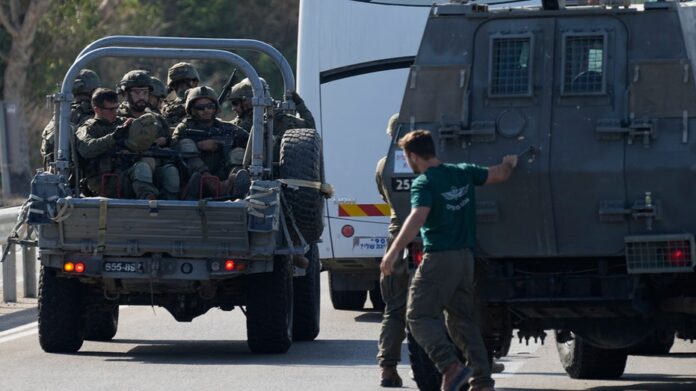 TEL AVIV: The first plane carrying US armaments landed in southern Israel on Tuesday evening, the Israel Defence Forces (IDF) said.
"The first plane carrying US armaments has since arrived at the Nevatim Airbase in southern Israel this evening," posted IDF on X. However, the IDF did not reveal the kinds of weapons or military equipment it received.
As Israel wages war with Hamas, US President Joe Biden's administration has begun delivering munitions to Israel this week.
"The cooperation between our militaries is a key part of ensuring regional security and stability in times of war," IDF's post added.
Meanwhile, Israeli President Benjamin Netanyahu on Tuesday held a telephone conversation with US President Biden for the third time.
"I told him (Biden) that Hamas is worse than ISIS – and that they should be treated that way," posted Netanyahu on the social media platform, X, after the talks.
Biden reiterated that the "US stands by Israel" and "fully supports its right to defend itself," the Israeli PM said while thanking him for "unreserved support".
"Since our last conversation, the scale of this evil has only grown. They abducted dozens of children, burned them and executed them. They cut off the heads of soldiers, they murdered the young people who were celebrating at a festival in the wild…We have not seen such barbarism in the entire history of the State of Israel…," Netanyahu posted on X.
As the war against Hamas has completed four days, over a thousand Israelis have been killed, more than 2,800 are injured and 50 are confirmed hostage or missing, IDF said.
It also said that over 4,500 rockets have been fired from Gaza so far on Israel.
On the other hand, over 770 Palestinians have also been killed in air raids after Israel launched a strong counter-offensive. The Health Ministry in Gaza said that at least 770 Palestinians have been killed and 4,000 wounded in Israeli air raids. Among the dead are 140 children and 120 women, a ministry spokesperson said.
A day ago, in a stern warning to Hamas, Israeli Prime Minister Benjamin Netanyahu said that "though Israel did not start this war" but "will finish it".
"Israel is at war. We didn't want this war. It was forced upon us in the most brutal and savage way. But though Israel didn't start this war, Israel will finish it," said Netanyahu in an address to the nation.
Hamas launched a surprise attack on Israel on October 7, firing a barrage of rockets into the southern and central parts of the country. (ANI)