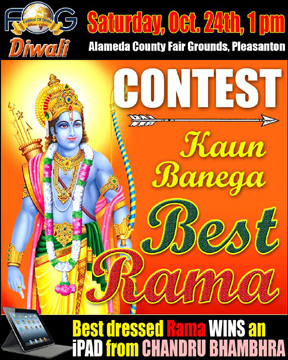 FREMONT, CA: A grand Diwali celebration with Fireworks is being held at Alameda County Fair Grounds in Pleasanton on Saturday, October 24. Thousands of people will be joining to celebrate the only Diwali festival with spectacular fireworks and an amazing laser show.
Cultural programs, Ramleela, a dazzling parade, fancy costumes, Fashion show, Yoga lessons, kids masti corner, train ride, a petting zoo, and animal rides will be there all day long starting at 11am. A devotional worship of the Lakshmi, the Indian Goddess of wealth and prosperity will be followed by Jhankis and Parade from 5 pm to 6 pm. Shopping for jewelry, clothes, and delicious food will be there at more than 100 booths.
A Free Health Fair from 11 am till 2 pm will offer free medical checkups to every visitor that includes BP check, BMI, body fat analysis, and free flu shots.
There will be a unique contest "Kaun Banega Best Rama". All children are invited to dress up as Lord Rama and showcase their costumes on the stage. A brand new iPad by Chandru Bhambhra will be given to the best dressed Lord Rama selected by a panel of judges. Children up to 12 years of age can participate. Parents can use this opportunity to share with your children the story behind Diwali.
A Selfie with the Bollywood and TV celebrity Shabir Ahluwalia at FOG Diwali Festival and Fireworks at Zee TV booth is among the main attractions. Shabir is popular TV star from famous Zee TV show "Kumkum Bhagya". Simplicity in complexity is perhaps what defines Shabir Ahluwalia the best. Shabir performs his roles with passion. His Bollywood debut movie is "Shootout at Lokhandwala".
He has also worked in the movie "Mission Istanbul". He plays cricket in Celebrity Cricket League for Mumbai Heroes. He will be at the fair grounds for more than six hours and attendees can take selfie with him.
" FOG Diwali and Fireworks" will have Global Kids Quiz – "It's a small world". Kids can learn about rich culture, dances, costumes, monuments, places, and information about states from all over India.
Everyone will have chance to collect the information, participate in quizzes, win prizes, and having fun while learning.
For more information about FOG Diwali and Fireworks, please visit FOGsv.org. Join Facebook event "FOG Diwali (Festival of Lights) for latest updates. For online special visit Sulekha.com/FOG. The FOG Diwali celebration is being organized by Federation of Indo Americans of Northern California (FIA) in association with Fremont Hindu Temple.
Ritu Maheshwari
India Post News Service