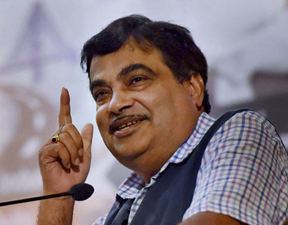 DAVOS: Regarded as a minister handling the country's biggest investment projects, Nitin Gadkari has said the total work orders relating to the roads, shipping and ports ministries will reach Rs 6 lakh crore by March and investors are ready to put in money from India as well as abroad.
He also proposed to make cycle tracks on all major roads across the country, including on highways, and favored a shift towards electricity-based public transport services, including electric cars being run as taxi in some cities.
The Union minister for road transport, ports and shipping, who was here to attend the World Economic Forum annual meeting, said there are several opportunities in India and people came and met him here with investment proposals and innovative ideas.
"In roads, shipping and ports ministries together, we have begun work on projects worth Rs 4.5 lakh crore and I am confident of further work orders to the tune of Rs 1.5 lakh crore by March-end, taking the total to Rs 6 lakh crore," Gadkari told PTI in an interview here.
"I feel there are several opportunities and people are ready. Last year, three flagship shipping organizations earned profit of Rs 6,000 crore and this year, it will rise to Rs 7,000 crore.
"We are also building six new ports. Inland waterways are being started, we are developing cruise tourism for which 100 cruises are coming to Mumbai alone. Work is being done for Goa, Kochi and several other places."
The senior minister said there are several opportunities and people are ready to invest.
"All we need is transparent policies and faster decision-making process. Even from within India, there are several investors ready to put in their money. Post demonetization, our bank deposits grew by 30 per cent and that money can go into infrastructure," he added.
Asked about air pollution being a big issue, the minister said, "Air pollution is indeed one of the biggest problems we have. Therefore, I want to promote ethanol, biodiesel, electric business.
"We have begun making ethanol from municipal waste. I am going to request national highways, state highways, district highways and even municipal roads in metro cities to make cycle tracks."
Gadkari, for good measure, wants "cycle to become the most loved vehicle of the country".
"First, it will reduce pollution and it is good for health also. Second, I want to promote electricity-based vehicles for public transport in our country. I want to promote mass rapid transport run by electricity. We are surplus in electricity and importing petrol and diesel, which also add to pollution," Gadkari said further.
"In some cities, we are thinking about electric taxi. Just like petrol pumps, there will be electric charging stations.
There are several innovations that are happening in these areas. Besides, we are already in the process of introducing the old car scrapping plan. There are problems, but there are also solutions and we need to convert the problems into opportunities." -PTI