JayantiOza
CHICAGO: More than 200 devotees and their families gathered at Arya Samaj of Chicagoland in West Chicago suburb to celebrate the auspicious festival of Holi.
The festivities began with the Havan, which was led by Acharya HariPrasadji and conducted on three Havankunds to accommodate a large number of congregants.
Explaining the ancient Vedic roots of this celebration, Acharyaji familiarized the devotees with VasantiNavsasyeshti, the original name of this day, which was observed to thank God and nature for bountiful crops and prosperity.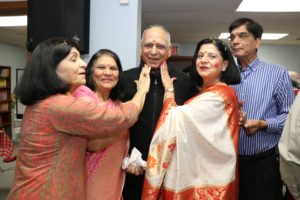 Through the recitation of special mantras followed by performing Havan, those assembled enjoyed Bhajans sung by SulakshanaBhagwat, Anil Oroskar, PratibhaJairath and SarojSoni. A special feature of the day was the reading of the 10 Principles of Arya Samaj by Arush, Swasti, Veronica, Luv, Kush and Vani. Acharyaji also talked about the ways to prevent the spread of Coronavirus though our traditional practices like namaskar, not eating from shared dishes or utensils, etc.
After that attendees moved downstairs to offer roasted Chanas into the ceremonial fire and played Holi with flowers and chandantikas before sitting down to a delicious lunch of traditional foods like khichdi and aloo sabzi, gujjhia, etc. Arya Samaj of Chicago land holds weekly services every Sunday from 11 AM to 1 PM.