Enter the world of fashion where every small detail is significant. And, in those small factors, accessorizing tends to have a big impact. Accessorizing is in and of itself an art form. While doing it, the right jewellery may have a profound effect on you. A gold chain with a locket is one of the most versatile pieces of jewellery that you can own. These pieces are adaptable and suitable for many unique occasions. A gold chain with locket can lend a touch of refinement and sophistication to your overall style whether you're opting for a laid-back daytime appearance or a chic evening outfit. But what makes a gold chain with locket truly special is the ability to customize it with a unique pendant. This blog will showcase four exquisite gold chains with lockets from Mia by Tanishq – each with its own distinct design and personality.
Styling Tips for Gold Chain with Lockets
Styling a gold chain with locket is all about personal expression and creativity. Here are some tips to help you make the most of your pieces:
• Layer it up: Don't be scared to layer your gold chain with locket with other necklaces to get a unique and personalized look. Mix and match different lengths and textures.
• Consider the length: Your gold chain's length can have a significant impact on how it looks with your outfit. Choose a chain length that complements the neckline of your top or outfit.
• Keep it simple: Sometimes less is more. Choose a simple gold chain with locket that enhances your clothing without drawing attention to itself if you are trying for a more subdued appearance.
Keep in mind that fashion is all about having fun and expressing yourself. Thus, don't be frightened to experiment with new styles.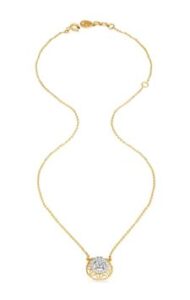 14kt Yellow Gold Concentric Dreams Diamond Pendant
This pendant is an exquisite work of art with its unique concentric diamond design. The piece is ideal for concert or a day out because of the piece's tribal-inspired finish. It gives it a touch of bohemian flair. Combine it with a flowy white sundress and some strappy sandals for a laid-back afternoon style. Alternately, wear it on a night out with a black jumpsuit and edgy statement earrings.
14kt Yellow Gold Apple of My Eye Diamond Pendant with Chain
This pendant's distinctive triangular shape is ideal for bringing a dash of geometric sophistication to your ensemble. Wear it with a structured blazer and a pair of high-waisted pants for a stylish professional look. For a midday outfit with a boho influence, pair it with a flowing maxi dress and wedges.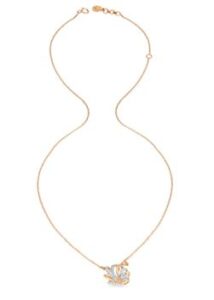 14kt Rose Gold Catch Me If You Can Diamond Pendant with Chain
This pendant has a feminine and elegant feel thanks to its rose gold finish. Pair it with a blush-coloured dress for a striking monochrome ensemble.Or wear it with a white button-up shirt and a pair of fitted pants for a timeless, classy appearance that is appropriate for any situation.
14kt Yellow Gold Drop of Light Diamond Pendant with Chain
The teardrop shape of this pendant adds elegance and romance to any outfit. Try it with a short black dress and some stilettos for a refined, chic appearance. As an alternative, combine it with a flowing skirt and a denim jacket for a casual yet fashionable look for the day.
Conclusion
The verdict is that pairing gold chain with locket may lend a dash of sophistication and class to any look. There is always a gold chain with locket that will complement your style, whether you favour a traditional or contemporary design. The four gorgeous items will add elegance to any outfit.
Check out Mia by Tanishq if you want to add a lovely gold chain with locket to your jewellery collection. You're sure to find the ideal piece to fit your style among their gorgeous array of fine jewellery. Don't pass up the opportunity to enhance your wardrobe with a dash of glitz with one of these stunning pieces from Mia by Tanishq.
Also Read: Mangalsutra Designs for the Modern Woman