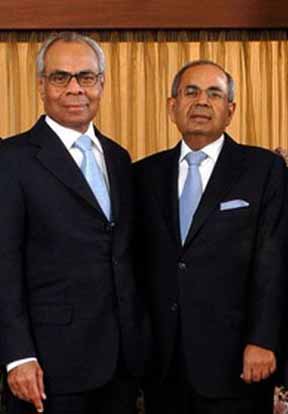 LONDON: The Hinduja brothers have emerged as the richest persons in the UK, which boasts of 102 billionaires, including Lord Swraj Paul and four others of Indian-origin.
The London-based Srichand and Gopichand Hinduja, who have a fortune of 11.9 billion pounds – "up by an astonishing 1.3 billion pounds in the past year", edged out steel tycoon Lakshmi N Mittal and Russian magnate Alisher Usmanov, according to the 'Sunday Times Super-Rich List.'
The Hinduja brothers, who run the multinational Hinduja Group conglomerate with interests across automotive, real estate and oil, moved up from third position last year to top the UK's billionaire charts this year.
The list also includes NRI industrialists such as Lakshmi Mittal and family, Prakash Lohia, Lord Swraj Paul and family, Anil Agarwal and Ajay Kalsi and family among the city's 72 billionaires.
Mittal also edged one position upwards to the third rank with 10.25 billion pounds even as Arsenal shareholder and Russian business chief Usmanov, who topped the list till last year, fell to the second place after his estimated fortune dropped to 10.65 billion pounds.
"Last year, the Hindujas sold a 49 per cent stake in a Saudi Arabian lubricants maker, Petromin, for more than 200 million pounds. Property investments in India have added 200 million pounds. The family's IndusInd bank is capitalized at about 2.7 billion pounds. In Britain, Hinduja Automotive turned over about 1.5 billion pounds in 2012-13," the newspaper said.
In reference to the Kolkata-based Mittal, the newspaper highlighted a final bounce in fortunes after a few years of dip.
"After a tough few years in the steel industry, Mittal is seeing a glimmer of light. Arcelor Mittal shares have recovered, making his stake worth 6.65 billion pounds – up 700 million pounds in a year," it said.
Mittal's brother-in-law India-born textiles and plastics tycoon Lohia is ranked as Britain's 46th richest man with around 2.11 billion pounds.
Leading NRI industrialist and Caparo chief Lord Swraj Paul is ranked Britain's 48th richest, with an estimated wealth worth around 2 billion pounds.
"The 83-year-old came to Britain from India in 1966 to seek treatment for his daughter's leukemia. He stayed after her death and founded steel manufacturer Caparo, which made more than 62 million pounds profit in 2013. The company has been restructured, with its American and Indian businesses worth 1.6 billion pounds," the newspaper said.
"Paul is chancellor of Westminster and Wolverhampton universities. In memory of his daughter he set up the Ambika Paul Foundation, which supports children's charities," the newspaper said.
Vedanta Resources chief Agarwal at 50th rank and Indus Gas supremo Kalsi at 102nd complete the Indian presence among the London-based billionaires.
"More than half, 39, of London's 72 billionaires were born abroad, but nationally the proportion was lower, with 44 of the 104 across the country born outside the UK," the Times said in its overall analysis.-PTI