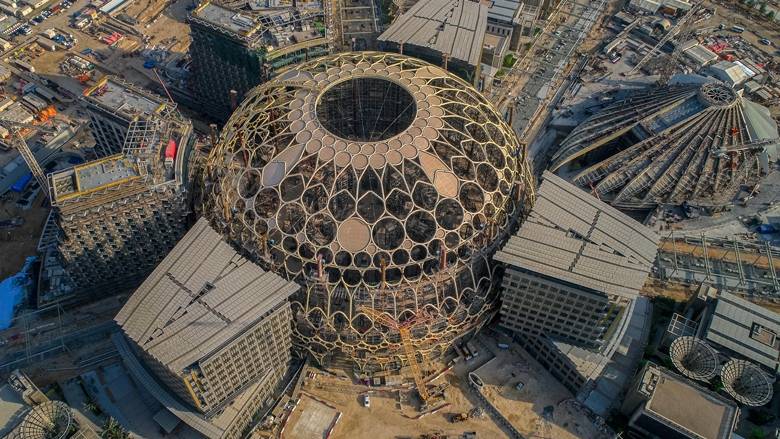 ADITI ROY
NEW DELHI: In a move to bolster cultural, trade ties and tourism, UAE, along with it's capital and second-largest city Abu Dhabi is hosting several initiatives in the run-up to the upcoming Dubai Expo 2020 an India is expected to be a focal point at the same.
India is expected to be the number one market for visitors at the annual retail extravaganza with millions projected to attend. In recognition of the significance of the Indian culture in the UAE and beyond, Diwali, along Republic Day(2021) will be celebrated as a special day at Expo 2020, with unique events across the site.
Located in the Opportunity District, India Pavilion this year is themed on "Future is in India". It will be a place that will define the country's potential to become a global power through its �Five Ts' – talent, trade, tradition, tourism and technology. It perfectly gels with the broader theme of the expo this year- �Connecting Minds, Creating the Future', is the belief that innovation and progress are the result of people and ideas coming together in new and unique ways.
The main areas of collaboration will include:
Cinema and Music
Bollywood biggies like actress Shraddha Kapoor made an appearance at the "One Year to Go" celebrations at Burj Park, Downtown Dubai on 21st October last year. Veteran Indian-British filmmaker and producer Shekhar Kapur is advisor to Expo 2020. World-renowned composer AR Rahman will mentor an all-women Firdaus Orchestra which will premiere at Expo 2020, are among a few prominent faces who are associated.
Commerce and Industry
The aim of the pavilion is to highlight India's strength in innovation and startups in tech industries such as artificial intelligence and fintech, as well as: tourism and hospitality, space, pharma, IT, renewable energy, and telecom.
Culture and History
Visitors will be able to discover a new, dynamic India built on diversity with opportunities for all, while exploring art installations that display India's space story and enjoying food festivals, literary shows, music and dance that reflect India's cultural diversity.
Development of human resources
Building on India's culture, heritage and technologies, including its space programme, the pavilion will reflect �New India', showcasing the strengths of its human resources and aspirations of its youth. There are more than 120 Indian employees at Expo 2020. Approximately 3.42 million non-resident Indians are living in the United Arab Emirates, according to the Embassy of India in Abu Dhabi.
Commenting on the same, Saeed Al Saeed, Destination Marketing Director at DCT Abu Dhabi said: "India has long been a priority for DCT Abu Dhabi, and the Indian market will certainly play a prime role in shaping our strategy for the future as well." There will be consistent marketing investment in India, spanning from a trade roadshow in the second half of 2020, trade partnerships to digital and social marketing presence, he adds.
In a move to bolster the ties between the tourism industries in Abu Dhabi and India, the Department of Culture and Tourism – Abu Dhabi (DCT Abu Dhabi) also organized meetings with key tour operators.
Ali Hassan Al Shaiba, Acting Executive Director of Tourism and Marketing at DCT Abu Dhabi, said: "We are here to demonstrate that DCT Abu Dhabi remains steadfast in its commitment to collaborating closely with the Indian travel trade as we aim to grow the number of visitors to Abu Dhabi even further in 2020…India has provided the perfect platform to showcase our tourism strategy for 2020 including our involvement in the highly anticipated EXPO 2020." IANSlife