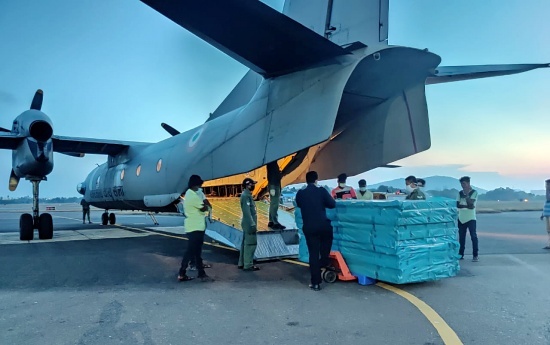 NEW DELHI: An Indian Air Force (IAF) aircraft has lifted personnel and 3,500 kg of medical equipment of the Indian Council of Medical Research (ICMR) from Chennai to Bhubaneshwar for setting up Covid-19 testing labs and related facilities in Odisha.
"An IAF aircraft on April 6 airlifted personnel and 3,500 kg of medical equipment of ICMR from Chennai to Bhubaneshwar," the force said in a statement. The request was made by the Odisha government.
On Monday, the IAF aircraft lifted medical supplies from West Bengal's Baghdogra to Sikkim's Gangtok for Covid-19 patients. "The medical supplies were airlifted by Mi-17V-5, a military transport helicopter, from Baghdogra to Gangtok," the force said.
The force continues to support the fight against coronavirus wherein medical supplies are being transported to equip the state governments and supporting agencies to combat the contagion effectively and efficiently, it said.
During the last few days, IAF airlifted essential medical supplies and commodities from nodal points to Manipur, Nagaland and Gangtok in the northeast and the Union Territories of J&K and Ladakh.
IAF has earmarked aircraft at nodal points to airlift medical supplies and equipment at short notice to proactively support the operations against Covid-19.
In addition, IAF airlifted critical medical supplies to Male and Maldives as part of 'Operation Sanjeevani' on April 2. The Maldives has faced a shortage of essential medical supplies as its connectivity with India — its main source of medical supplies — was broken after the Covid-19 induced lockdown.
"Quarantine facilities created at IAF bases across the country continue to be in a state of readiness," the force said.