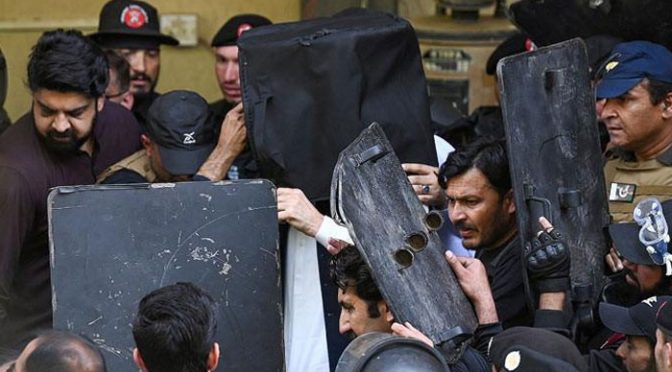 LAHORE:: High drama was witnessed outside court in Lahore as Former Pakistan Prime Minister Imran Khan wearing a makeshift bulletproof helmet that looked like a black hood, fully guarded by four men with bulletproof shields and an aide guiding him to an anti-terror court for seeking an extension in bail in three of the scores of cases registered against him, Geo News reported.
A video of the same has gone viral on social media and some social media users compared Khan's appearance to that of the famous American singer Marshmallow.
It is worth mentioning that the Pakistan Tehreek-e-Insaf chief was shot in the leg during a political rally in Wazirabad November 2022.
Since then, the PTI claims that Khan faces threats to his life and thus travels under high security. Khan arrived for the hearing and entered the courtroom through tight security.
For protection, security guards held up bulletproof shields around him, and he wore a makeshift bulletproof helmet that resembled the black hood pulled over the head of a death row prisoner before hanging.
An aide can be seen in the video guiding Imran Khan toward the court because it was difficult to see through the slit in the bulletproof helmet, as per Geo News. Notably, in a huge relief, embattled former Pakistan Prime Minister and Pakistan Tehreek-e-Insaf (PTI) chief Imran Khan was granted interim bail by a Lahore anti-terrorism court on Tuesday in three cases, reported Geo News.
Imran Khan's bail has been extended till April 13 in three terrorism cases registered against him.
The Zille Shah murder case, arson, and interfering with state affairs were three instances in which the PTI Chairman appeared in court seeking bail. Under the anti-terror and aiding and abetting laws, several cases were filed against the PTI chief at the Race Course police station, Geo News reported.
Khan entered the ATC under heavy security because the judges had made his appearance in person for the appeal for an extension of bail as a condition of his release on bail. In connection with the clashes between PTI members and police that took place during an operation to apprehend Khan in the Toshakhana gifts case, the Lahore police had filed these three cases against Khan.
According to Geo News, Khan is currently dealing with more than 140 cases related to terrorism, murder, attempted murder, and blasphemy that the PMLN-led coalition government registered against him over the past 11 months.
Earlier, in March, the Lahore High Court (LHC) granted protective bail to Imran Khan in the same case and directed him to approach the relevant court in this matter. PTI chairman Imran Khan, who arrived at the court, wrote in his petition seeking interim bail that he wants to be involved in the probe but there is a fear of arrest by the police, according to The News International report.
Khan had been granted bail by the ATC with a condition that he post surety bonds of (PKR) 100,000 in each instance and cooperate with the investigation and appear at all scheduled hearings. (ANI)
Also Read: 'My arrest part of London plan': Imran Khan