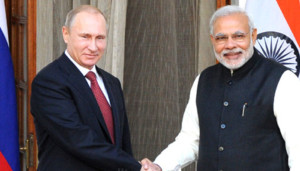 NEW DELHI: India is likely to seal a nearly Rs 40,000 crore deal to procure S-400 Triumf air defense missile systems from Russia before top leaders of the two countries hold an annual summit around October, official sources said.
Negotiations for the deal are nearing completion and differences over price and other peripheral issues were almost bridged, they said.
Sources told PTI that both Russia and India were eyeing inking of the contract before summit talks between Prime Minister Narendra Modi and Russian President Vladimir Putin which may take place either in September or October in India.
They said India was confident of finalizing the mega-deal with Moscow notwithstanding provisions of a US law that seeks to punish Russia for its alleged meddling in the American presidential election in 2016.
Countering America's Adversaries Through Sanctions Act (CAATSA), which came into effect in January this year, mandates the Donald Trump administration to punish entities engaging in significant transaction with the defense or intelligence establishment of Russia.
US Defense Secretary Jim Mattis last week appealed to the Congress to urgently provide India the national security waiver, saying imposing sanctions under CAATSA for the S-400 air defense missile deal would only hit the US.
India wants to procure the long-range missile systems to tighten its air defense mechanism, particularly along the nearly 4,000 km Sino-India border.
In 2016, India and Russia had signed an agreement on the 'Triumf' interceptor-based missile system which can destroy incoming hostile aircraft, missiles and even drones at ranges of up to 400 km. S-400 is known as Russia's most advanced long-range surface-to-air missile defense system.
China was the first foreign buyer to seal a government-to-government deal with Russia in 2014 to procure the lethal missile system and Moscow has already started delivery of unknown number of the S-400 missile systems to China.
Negotiators from India have been in talks with their Russian counterparts for over one and half years for the purchase of at least five systems of S-400 which are capable of firing three types of missiles.
The S-400 is an upgraded version of the S-300 systems. The missile system is manufactured by Almaz-Antey and has been in service in Russia since 2007. PTI