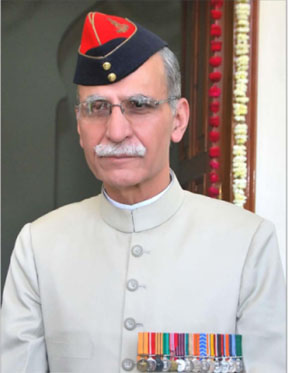 ALIGARH: AMU Vice-Chancellor Lt Gen (Retd) Zameer Uddin Shah today said Union HRD Minister Smriti Irani had in a meeting with Kerala Chief Minister Oommen Chandy on January 9 said the AMU centers in Kerala, West Bengal and Bihar were illegally set up and will not be funded by her ministry.
After reports that Irani insulted Shah at the meeting held in her office with Chandy, the AMU V-C today issued a statement seeking to clear the air over the controversy.
"It would take a lot to humiliate a veteran of the Longewala Battle of 1971, who spent the better part of his 40 years in the army fighting insurgencies in Punjab and North-East India and dousing communal passions in various riots.
"There have been several reports in the press and social media about a meeting with the HRD Minister on January 9. It is regrettable that these leaked reports are meant to create controversy and tarnish AMU's image," he said in the statement.
He said he had on January 9 gone to meet Irani at the insistence of Chandy regarding the funding of an off-campus AMU centre in Kerala and since the venue of the meeting was changed at the eleventh hour, he could not reach there on time.
"After the meeting, Chandy told me that the HRD Minister was adamant that the AMU centers were illegally set up and will not be funded by the HRD Ministry, despite being told that they had been approved by the highest policy making-bodies – AMU's Executive Council and Court, Government of India and the Visitor (President of India)," Shah said.
"It is apparent that certain frustrated alumnus of AMU have conveyed the wrong impression to the HRD Minister that these centers are illegal," he said.
The AMU V-C further said he will be meeting Prime Minister Narendra Modi later this week and seek a resolution to all issues pertaining to the varsity.
Later, Shah told PTI that the issue of "inadequate and inequitable" funding had been troubling AMU for quite some time now.
"AMU has been released far lesser funds compared to BHU, which is of equal size. In fact, Jamia Millia Islamia, which is one-fourth the size of AMU, has been given a far larger allocation," he said.
Asked what else he will discuss with the Prime Minister, Shah said he was "disturbed by some senior BJP leaders raising the bogey of alleged anti-national activities by a few AMU students during their recent protest in support of their JNU counterparts".
"Having served in the Indian Army, I know all that nationalism is all about. There is no question whatsoever of allowing anything anti-national on the campus," he said.
"We have different fora in the university and all of them enjoy the right to criticize the political dispensation of the time. They have the right to do so and we cannot crush the right of freedom of expression.
"On the other hand, we are there to ensure the none of these discussions or deliberations violate the Constitution," he said.–PTI