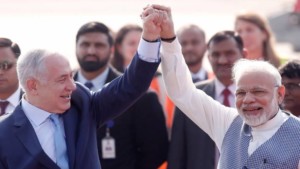 KOLKATA: Israel is expecting 90,000 Indian tourists in 2018-19, up from 60,000 who visited it in 2017-18, a top Israel tourism ministry official has said. The Israel tourism ministry is hopeful that the number could reach 2-3 lakh in next two-three years, Director of Tourism (India and Philippines) Israel Ministry of Tourism Hassan Madah said.
"Of the 3 million foreign tourists who visited Israel in 2017-18 only 60,000 were Indians. We are hopeful with the rise in number of flights and more people to people contact in recent years, the figure could be 90,000 by 2018-19," Madah told reporters on the sidelines of a roadshow by the Israel Ministry of Tourism here. Asked about the reason behind lesser number of Indian tourists visiting Israel in the past, Madah said that the media had not properly projected the safety and security image of the country and there were not many travel agents to promote Israel tourism.
"Now the scenario is poised for change. We have more AI flights connecting Tel Aviv and Delhi and there are talks of direct flights between the southern Indian states and Tel Aviv by Arkia Israel Airlines by the end of this year. These will help the number of tourists to rise," he said. In addition to AI, Israeli airline E1 A1 is already operating non-stop flights between Mumbai and Tel Aviv while Arkia has expressed interest to start operations at the end of this year.
"While the direct AI flight, introduced since March this year, are always full, the greater number of Christians living in southern states have always been willing to visit the Holy Land. We want to tap that segment and the response has been quite encouraging," he said. He said besides Tel Aviv, Jerusalem and the Dead Sea were among the major tourist highlights offered by Israel.
Madah said the opening of the Israel visa application centre in the city for West Bengal and north eastern states will foster interest among travelers from eastern part of India to his country. "We want to have people to people contact in a bigger way."
He said of the total foreign students in Israel, around 10 per cent were Indians."There are lots of start-ups and new companies coming up in Israel and there are several collaborations between companies in this sector. India has an important role in this regard," Madah said. He said there are one lakh India-born people living in Israel for ages and a large number of them hail from the Jewish community. "A section of that Jewish community hail from Kolkata and this shows our ties run through deeply," Madah added. PTI