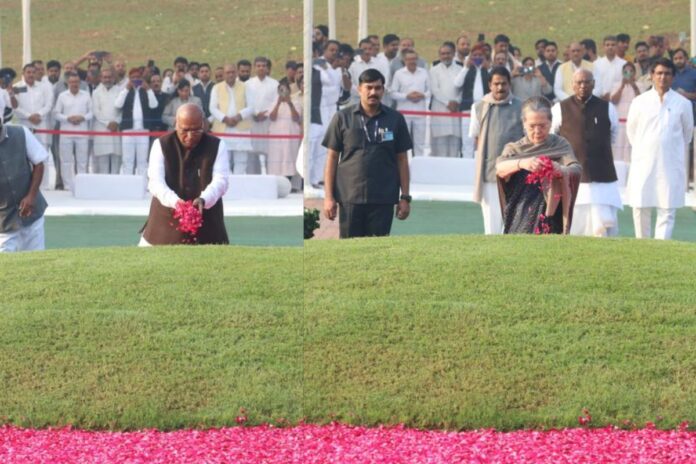 NEW DELHI: Congress President Mallikarjun Kharge and Congress Parliamentary Party Chairperson Sonia Gandhi paid floral tribute to former Prime Minister Jawaharlal Nehru on his birth anniversary at Shantivan in the national capital on Tuesday.
"Paying tribute to Pandit Jawaharlal Nehru ji on his birth anniversary, who took India from zero to the pinnacle, the creator of modern India, the fearless guardian of democracy and our source of inspiration. His progressive ideas advanced India's social, political and economic development despite all the challenges and encouraged the people of the country to live together at every moment, without any discrimination and always keeping the country first," Congress President Kharge posted on X (formerly Twitter).
Children's Day is celebrated on November 14 every year as a mark of respect to the first Prime Minister of independent India.
Nehru was fondly called 'Chacha Nehru' and was known for emphasising the importance of giving love and affection to children. After the death of Nehru, it was unanimously decided to celebrate his birthday as 'Bal Diwas' or Children's Day in India.
Nehru was born on November 14, 1889, in Uttar Pradesh's Prayagraj. He breathed his last on May 27, 1964.
He became the Prime Minister on August 15, 1947, following an active role in the freedom struggle of the country.
On this day, a number of activities are organised for students in schools nationwide, such as games, competitions, and so on, while government bodies pay tribute to the late prime minister and organise commemorative events.
In 1954, the United Nations declared November 20 as Universal Children's Day and India used to celebrate Children's Day on that day before 1956 but after the death of Prime Minister Nehru in 1964, a resolution was passed in the Parliament unanimously declaring the day of Pt. Nehru's birth anniversary as National Children's Day. (ANI)
Also Read: PM Modi pays tribute to former PM Jawaharlal Nehru on his death anniversary