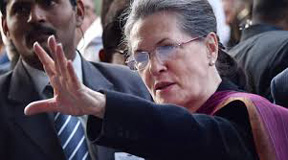 SIVASAGAR/AMGURI: Slamming the BJP-led alliance in Assam as coming together of "two dangerous forces of communalism and divisiveness", Sonia Gandhi today accused Prime Minister Narendra Modi of "insulting" people of the state and going back on promises of development.
The Congress President also took potshots at the Prime Minister for his remarks linking his humble origin as a tea seller with Assam tea and said "those working in the tea gardens as well as tribals are asking when will the good days (achche din) come." 'Achche din' was Modi's poll slogan in 2014 Lok Sabha polls.
Repeatedly claiming "insult" of Assamese and North-East people by BJP, Gandhi said the composite culture of the state was in "danger" and if BJP-AGP-BPF alliance government came to power in the state, the "era of peace and development", which she claimed was brought during the 15-year-rule of Tarun Gogoi in the state, would be under "threat".
Talking at length about the contribution of Congress in bringing peace and prosperity in Assam, Gandhi said "this time the composite culture of Assam is in danger because two dangers have come together here. One is communal and the other is divisive."
Positioning Congress as the counter-force to these powers, Gandhi asked, "Why so they oppose the Congress party and its workers? Because they know it well that Congress represents all sections of the Assamese society. They know that in 15 years of Gogoi's rule, Assam has emerged as a peaceful and progressive state."
"When they had ruled the state, it was known for anarchy and extremism. If such people came to power, the era of peace and development which continued for last 15 years will come under threat."
BJP's ally was in power in Assam twice in the past.
She alleged "discrimination" against Assam by Modi government, and said, "After all, why brothers and sisters of North East and Assam are being insulted so much? Why Tarun Gogoi is being insulted this much? Why people of Assam are being insulted so much?
Gandhi's emphasis on the alleged "insult" of Assam, Assamese and the state Chief Minister is somewhat akin to the strategy adopted by Nitish Kumar in Bihar, who had made an issue out of certain remarks by Modi projecting them as insult of Bihar.
The Congress President's all out attack on the BJP has come at a time when some opinion polls and experts have given the BJP an edge in Assam, where Congress is battling an anti-incumbency of 15 years.
Gandhi said that she wants to ask BJP's friends here whether they remember the "discrimination" done by Modi government to Assam.
"Can anybody forget that how Modi government had refused to provide funds for relief during floods in Assam? Can you forget that Modi government has reduced the funding of schemes made for the uplift of Assam during the UPA government? Can you forget how Modi government snatched the special state status of Assam, which was given by the UPA government during the Prime Ministership of Manmohan Singh.
"We had given a very good system of autonomous council for Assam's development. What has Modi government done? What are they doing? Modi government is making all efforts to finish the autonomy of this council. Prime Minister Modi did not think of talking to Assam or other states of North East on the Naga accord. Now nobody knows what happened to this accord," Gandhi said, accusing the BJP government at Centre of repeatedly "insulting" Assam.
Gandhi took a jibe at the Prime Minister, who had an election rally a few days ago recalled that he sold Assam tea to energies others and therefore shared a special bond with the people of the tea-producing state.
"Prime Minister Modi praises Assam tea but those working in the tea garden are passing through tough times during his rule. Those working in the tea gardens and the tribals are asking Modi ji when will our good days come. Modi government is trying to snatch the right of cheap foodgrains available to the tea garden workers," she alleged and congratulated Gogoi and Congress leader Anjan Dutta for "having opposed and stopped" such a plan.
She also said that Modi should tell when he will provide SC status to tea garden workers.
"I would ask the Prime Minister why did he reduce the budget for minorities and tribals. What is happening ever since Modi-led NDA government has come to power. Price rise is breaking the back of people. The prices of even essential medicines have gone beyond the reach of common man," Gandhi said.
The Congress President also reminded that BJP, which had first opposed the land boundary agreement with Bangladesh, later changed track and signed it.–PTI