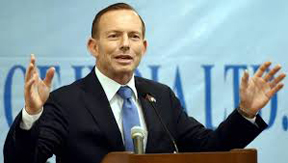 NEW DELHI: Australian premier Tony Abbott today said Narendra Modi as Gujarat Chief Minister should not be blamed for the 2002 riots in the state as he was just a "presiding officer" who has been cleared in "endless inquiries".
"My understanding is that there has been endless inquiries into this and Mr Modi has always been cleared. That certainly is good enough for me," Abbott said in an interview to Karan Thapar on Headlines Today.
Elaborating his thoughts on the issue, the Australian Prime Minister said he accepts that sometimes "we" (leaders) are presiding when terrible things happen.
"I don't believe the presiding officer should be blamed just because something terrible happens in the country over which he is presiding," he said.
Abbott, who is on a visit to the country to deepen bilateral ties, recalled Modi's visit to Australia twice as Chief Minister of Gujarat.
"He struck out some good friendships in Australia and he has quite a cheer squad in Australia. There was tremendous enthusiasm for him and for the change of government among the half a million strong Indian community," he said adding that even Australian politicians were "convinced" that he was going to bring about a "real fresh breath of air" to the government and the economy of India.
Calling India as a "first class international citizen", the Australian Prime Minister said he wants his country to be the source of energy for India.
Talking about the India-Australia nuclear deal, he said "this is a very important sign of trust between our two governments. I want it to be a trusted partnership and plainly, selling uranium to India, which can take place under this agreement, is a great sign of trust that exists between India and Australia". Asked if Australia supports India's membership of Nuclear Supplies Group, Abbott said the fact that both countries have signed the nuclear cooperation agreement "means that we think that India is a first class international citizen and is entitled to membership of all the various clubs that goes with that".
He said Australia was confident that India will use Australian uranium for peaceful purposes.
He said Australia, which has about 40 per cent of the world's known uranium deposits, was open to business and "that means for coal, for uranium, for gas, for beef, dairy, wines… We are open for business".
Abbott said he would like Australia to be in a position to provide India the energy security that India need in years and decades to come.
"Not just uranium, but obviously in coal and perhaps in gas as well," he said.
Talking about Pakistan, he said Australia seeks good relations with it and "we hope for better relations between Pakistan and India overtime".
"I know that Prime Minister Modi, in a sense, reached out to Pakistan upon his election and let's hope that there will be positive developments there," he added.–PTI