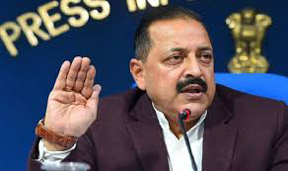 NEW DELHI: Amid snowballing row, Minister of State in the PMO Jitendra Singh today defended the decision of Jammu and Kashmir government to issue domicile certificates to West Pakistan refugees and slammed those opposing the move to address the matter which has been lingering for 70 years.
Singh, a senior BJP leader from Jammu, said the country owes it to them since they have been living in the state for last 70 years and have been languishing without jobs and proper livelihood since Independence.
Kashmiri separatists have criticized the move by the Jammu and Kashmir government to give domicile certificates to West Pakistan refugees, saying it was an attempt to change the demography of the state.
"This has absolutely nothing to do with citizenship right per se…those who are trying to make an issue out of it or oppose this should first address the issue of some foreign nationals who have settled down in the suburbs of Jammu," Singh said.
"They (refugees) don't have the citizenship right and State Subject certificate in absence of any identity proof as a result they can not apply jobs. Therefore, the state government in consultation with Union Home Ministry devised a mechanism where each of them could be provided proof of identity to ensure them a dignified means of livelihood," the minister said.
Singh noted that the counterparts of such refugees like I K Gujral and Manmohan Singh, who settled in other parts of the India, rose to occupy the office of Prime Minister.
JKLF chairman Mohammad Yasin Malik attempted to stage a protest demonstration in Srinagar today against the move, saying it was a bid to change Muslim-majority character of the state.
An Independent MLA of the state Sheikh Rasheed also launched a 48-hour protest outside the residence of Chief Minister Mehbooba Mufti today against the decision.–PTI