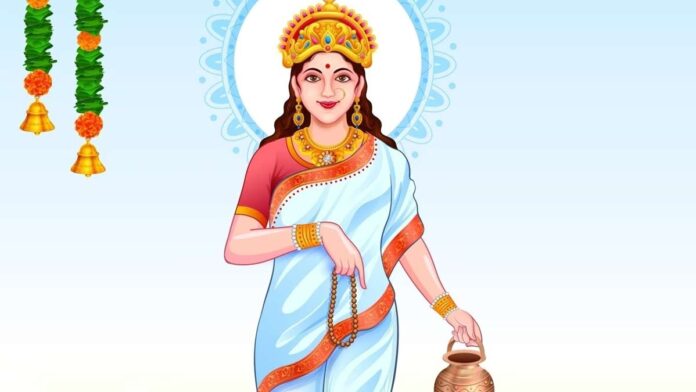 NEW DELHI: Today marks the second day of Sharad Navratri.
This day, people worship Maa Brahmcharini, one of the avatars of Maa Durga. According to Hindu scriptures, Maa Brahmacharini was a great Sati, and her form is symbolic of the severe penance carried out by Goddess Parvati.
Maa Brahmacharini wears white clothes, and holds a chanting rosary in her right hand and a kamandal in her left hand. It is believed that worshipping her increases the power of chanting and penance inside the person.
Puja details – According to Drik Panchang, the Dwitiya Tithi of Shardiya Navratri will begin on October 16 at 12:32 am and end on October 17 at 1:13 am.
For worshipping the goddess Brahmacharini, one can chant the mantra dedicated to the goddess — " Om Devi Brahmacharinyai Namah". Also, dip the idol of Maa Brahmacharini in honey and milk and apply teeka on the forehead of the idol. A special bhog of sugar is also offered to the Goddess during Navratri.
Navratri means 'nine nights' in Sanskrit It is intended for worshipping Goddess Durga and her nine avatars, known as Navdurga.
Hindus observe a total of four Navratri throughout the year. Only two of them, Chaitra Navaratri and Shardiya Navaratri saw widespread celebrations, as they coincide with the beginnings of the seasons.
In India, Navratri is celebrated in a wide range of ways. Ramlila, a celebration in which scenes from the Ramayana are performed, is organised in North India, mainly in Uttar Pradesh, Uttarakhand, Bihar, and Madhya Pradesh. The burning of King Ravana's effigies marks the conclusion of the story of Vijayadashami.
The festival, which commenced on October 15, will last till October 24. (ANI)
Also Read: Navratri meals for a yogic lifestyle