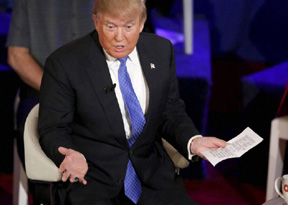 WASHINGTON: Republican presidential front- runner Donald Trump has said he wants to protect the rights of Muslims, Hindus, Sikhs and other minority groups in the US but asserted that there was a need to recognize the "very serious problem" of "radical Islam" at the same time.
"I want to do that also, and I do want to do that, but I at the same time we have to recognize we have a serious problem (with regard to Islamic fundamentalism)," Trump said during a CNN town hall when asked about protecting the rights of minority groups like Muslims, Sikhs, Jews and others inside the United States.
The question in this regard was asked by Lt (rtd) Brian Murphy, who was the first officer to report to the Gurdwara massacre in Oak Creek, Wisconsin, in 2012. At the risk of his life, he had saved a number of Sikhs. He was shot at 15 times.
"In Milwaukee, you heard about the Sikh temple shooting. Six people were killed. 99 per cent of the men in the United States who wear turbans are actually Sikh and not Muslim. How would you suggest we help educate the public and not alienate these groups and, at the same time, how do we protect the constitutional rights of minority groups like the Muslim, Sikh, Hindu, and Jews, while still addressing radical Islamization?" Murphy asked Trump during the town hall.
Trump responded to the question from Lt Murphy, saying, "We have a tremendous problem with radical Islam whether we like it or we don't. We have a president who won't talk about it,"
"When I called for the temporary banning (Muslims), we have to look at it. We have a serious problem, I think you'll admit that, Brian. We have a very, very serious problem with radical Islam, and if we don't want to discuss it, and if we don't want to look at it, we're never going to solve the problem," the 69-year-old real estate tycoon said.
"We have to be extremely strong with ISIS. We have to wipe ISIS off the face of the Earth so fast and so violently we have no choice. We have no choice," Trump said in response to the question.
The United States, he said, needs to be very vigilant.
"Very smart, and frankly, Brian, we have to be very tough because it's only going to get worse," he said.
Trump argued that thousands of people were being allowed into the country over short periods of time coming "supposedly from Syria".
"We have no idea who they are, we have no idea where is their paperwork. They have no paperwork; they have no identification. They're coming into this country and it's going to be a big, big problem," he argued.
"We have to be extremely vigilant in those areas, we have to look very seriously at the Mosques. Lots of things happening in the Mosques, that's been proven. You look at what's going on in Paris where Mosques are being closed, OK? And, we have to look very, very seriously," Trump said.–PTI