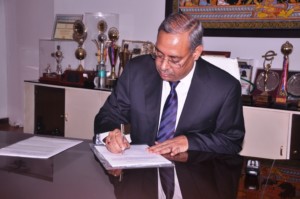 KOLKATA: The world's largest miner, Coal India Ltd, now aspires to be the "most-efficient" coal producer, with an aim to bring down costs to a "bare minimum" level as the sector opens up for commercial mining.
"We are the world's largest coal producer, but we wish to be the most-efficient coal miner," newly-appointed CIL Chairman and Managing Director Anil Kumar Jha has said.
Jha, however, acknowledged that it would be difficult, due to the socio-economic situation of India compared with some of the efficient coal players like Australia.
"Our socio-economic situation is different. When we open a mine, there is huge demand for employment. The land losers want nothing but employment. Despite this, MCL (Mahanadi Coalfields Ltd) pays compensation of Rs 16 lakh in lieu of employment, but villagers demand employment," he said.
Jha had served as the chairman of CIL's most profitable subsidiary, MCL.
He further said that manpower engaged with Coal India is three to four times than that of an Australian mine, owing to the large demand for employment.
Moreover, CIL also invests in infrastructure development for its neighborhood areas to fulfill the demand for water, health and education needs of locals around the mines, so that all stakeholders get a share of profit from the miner, Jha said.
The top CIL official said the mining major is striving to bring down the cost of production to a "bare minimum", but added that he would require some time to prepare a roadmap towards these goals without compromising on social factors.
Jha said he had already approved opening of price bids for ERP implementation, which was delayed for quite a few months.
He also asserted that no power plant will suffer due to shortage of coal. PTI