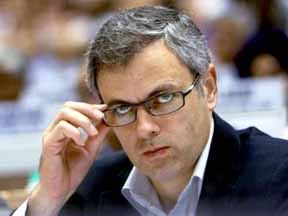 SRINAGAR: Former Jammu and Kashmir Chief Minister Omar Abdullah today hit out at PDP patron Mufti Mohammad Sayeed for being a "sell-out" to BJP.
"Dear Mufti Sahib, please don't say you won't 'sell out' because you've already done that by helping BJP in the Legislative Council elections," Omar wrote on the micro-blogging site Twitter.
"You (Sayeed) already 'sold out' by demanding Art 370 status quo when you had sold 'Self Rule' to people in J&K, please stop playing the martyr," he wrote in another tweet.
The National Conference working president also took a dig at the PDP leader for "supporting" BJP in the Rajya Sabha polls and Legislative Council elections.
"I have to ask – PDP/BJP support each other for the RS polls, repeat for the Leg. (Legislative) council seats & expect people to believe no tie up yet???," he said.
PDP and BJP are in talks over government formation in the state ever since the results of the assembly elections on December 23 threw up a hung Assembly.–PTI