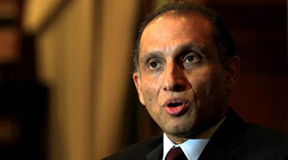 ISLAMABAD: Terming Prime Minister Narendra Modi's recent speech attacking Pakistan as a violation of the UN norms on non-interference in the internal affairs of other countries, Pakistan's top diplomat said such "irresponsible" behavior at the highest level was regrettable.
Foreign Secretary Aizaz Chaudhry said that Modi's statement shows India's nervousness over the situation in Kashmir.
Chaudhry said that it was unfortunate that the Indian leadership "continues to indulge in a vilification campaign against Pakistan by making provocative statements and hurling baseless accusations".
He said that such "display of irresponsible behavior at the highest political level was regrettable", Dawn reported.
"It is evident that, as an act of desperation", India is trying to distract the world attention from the "atrocities perpetrated by its forces against innocent and defenseless Kashmiris, including women and children", Chaudhry said.
Indian Prime Minister's recent statement violates all United Nations and international charters on non-interference in internal affairs of other countries, he said.
The Foreign Secretary noted that "Indian atrocities had intensified since the extrajudicial killing of Kashmiri youth leader Burhan Muzaffar Wani in July".
"Over the last 75 days, Indian occupation forces have martyred more than 100 Kashmiris, blinded hundreds and injured thousands."
The foreign secretary said that while casting aspersions on Pakistan, India continued to "sponsor terrorism in Pakistan directly through its state apparatus".
The arrest and confessional statement of a serving Indian navy officer and intelligence operative, Kulbhushan Jadhav, had proved India's involvement, he claimed.
There are increasing demands for independent investigations and fact-finding missions to be sent to Kashmir, he said.
Prime Minister Modi launched a blistering attack on Pakistan on Saturday in his first public address after last Sunday's deadly Uri terror attack.
Modi said the sacrifice of 18 soldiers will not go in vain while all out efforts will be made to isolate Pakistan globally.
"Terrorists should hear out clearly that India will never forget the Uri attack…I want to tell the leadership of Pakistan that the sacrifice of our 18 jawans will not go in vain," Modi told a public meeting on the Kozhikode beach held on the sidelines of the BJP national council meet.–PTI