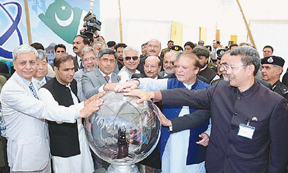 ISLAMABAD: Power-starved Pakistan today received a major boost as a China-backed 340 MW nuclear power plant in its Punjab province was inaugurated by Prime Minister Nawaz Sharif who termed it as a milestone in the government's efforts to end the menace of load shedding.
The Chashma-3 plant is located at Chashma in Mianwali district where another plant Chashma-IV is also being built.
Sharif described the completion of C-3 as another milestone towards the journey to eliminate the menace of load shedding from the country, Radio Pakistan reported.
He said the project is reflective of closer cooperation between Pakistan and China in science and technology.
"This cooperation is also beginning of a new era of development in the region," he said.
Sharif expressed confidence that Chashma-IV nuclear power plant would also become operational before its deadline of mid next year.
Chashma two and three power plants are the most efficient plants in the country, providing more than 600 MW of electricity to the national grid.
Sharif appreciated Pakistan Atomic Energy Commission (PAEC) for its efforts for self reliance in fuel fabrication and said his government would extend every possible assistance to the Commission to help overcome the shortage of electricity in the country.
Referring to the generation target of 8800 MW of nuclear energy by 2030, Sharif urged the Commission to accept the challenge of producing more than the target and play its full role in the development of the country.
Noting that there has been a marked reduction in load shedding during the last three years, Sharif pledged that the menace of load shedding would be over in 2018.
He said generation of additional 2200 MW of electricity through K-II and K-III would contribute towards this effort.
Sharif urged PAEC to take all possible measures to strengthen safety of existing and future power plants as per international standards.
Sharif thanked China for extending cooperation in nuclear field and said the two countries are actively cooperating in many other areas, including construction of roads, motorways, airports and upgradation of Pakistan Railways.
He said many projects were initiated under CPEC and their impact was now visible.
These projects are being implemented speedily and this would result in overcoming challenges of unemployment, poverty, backwardness and accelerating the pace of socio economic development, besides bringing all regions of the country closer, he said.
Vice President of China National Nuclear Corporation in his speech said cooperation with Pakistan in nuclear energy was reflective of strategic ties between the two countries.
The completion of Chashma-3 will strengthen cooperation with Pakistan in peaceful uses of nuclear energy, he said, adding that nuclear power plants are playing a vital role in economic development of Pakistan.
Speaking on the occasion, Chairman Atomic Energy Commission Muhammad Naeem said the Commission had been given a target of 8800 MW of nuclear power till 2030.
To achieve this target, planning for establishment of more plants have been done and places identified and research work in this regard is going on, Naeem said.
He said three plants have been planned, out of which one will be established in Chashma and two in Muzaffargard.
Necessary skill has been acquired to prepare fuel for nuclear power plants and in Chashma land has been acquired for fuel fabrication plant, he said, adding that presently fuel for Chashma power plants are being imported from China.–PTI