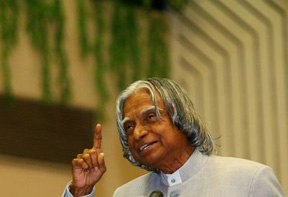 NEW DELHI: For former President A P J Abdul Kalam, the greatest regret in life was not being able to provide facilities like 24-hour electricity to his parents during their lifetime.
Kalam, who says he inherited honesty and self-discipline from his parents, however, is happy that his 99-year-old brother A P J M Maraikayar is getting 24-hour electricity at his residence in Rameswaram in Tamil Nadu, thanks to technology.
"My father (Jainulabudeen) lived 103 years and my mother (Ashiamma) 93 years. My brother now is 99. For my brother I have ensured that he gets 24 hours of electricity even when there is a power cut. I have installed a solar panel," 83-year-old Kalam, who was India's 11th President from 2002-2007, told PTI in an interview.
"But I could not provide such a facility to my parents as technology was not there at that time. This is my biggest regret," he says.
Being youngest in the family, Kalam had a special place in his home. When he was school there used to be no electricity.
His house was lit by a kerosene lamp that too between 7 and 9 PM.
His mother, however, specially gave him a small kerosene lamp so that he can study up to 11 PM.
He has come up with a new book "Reignited: Scientific Pathways to a Brighter Future", co-authored by his close aide Srijan Pal Singh in which provides several nuggets of his life besides advice for young people on careers in areas like robotics, aeronautics, neurosciences, pathology, paleontology and material sciences.
Kalam and Singh have been working together for nine years, travelling, meeting children and interacting with them. MORE PTI ZMN
"Reignited: Scientific Pathways to a Brighter Future," published by Penguin Books, is the result of these interactions the authors had with students, teachers, professors and other people across India and abroad.
In the book, the authors urge children to "find your own little events and turn them into pillars of inspiration so you can find a new fire within yourself. This fire will ignite new ideas, new purposes and new faculties within you and enable you to achieve greatness."
Kalam, who was conferred with the Bharat Ratna in 1997, says that scarcity was the biggest challenge during his childhood but his parents never showed that they had difficulty in managing things.
"Ours was a unique home. My parents were always willing to share whatever they had. They never used to express any difficulty they had," he says.
Kalam, who was fascinated by stories of war when he was in school, says he visualizes a world of prosperity without poverty, good living and clean environment and is promoting the concept of 'livable planet' along with Singh.
According to Kalam, one of the most distinguished scientists of the country, great people of the world have four unique qualities – high aim, continuously acquiring knowledge, hard work and not afraid of problems.
A great advocator of real-time learning, he advises parents to have a small library in their homes with a minimum of 10 books to develop reading habit among children.
"Wherever I go, I recommend parents that they should have a small library in their homes and keep not much but 10 good books – books on religion and great people. Whenever the children return from school, the parents should read a few pages of these books to them. This is a good way of transforming children as they will always carry with them this knowledge," he says.
Asked how, he wants himself to be remembered as, Kalam says, "As a person who can give in whatever way he can". –PTI