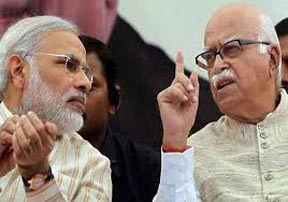 NEW DELHI: Prime Minister Narendra Modi, several of his Cabinet colleagues and Congress President Sonia Gandhi were prominent among those who took oath as members of the 16th Lok Sabha today.
Attired in spotless white, the Prime Minister was the first to take oath amid thumping of desks.
He took oath in Hindi in the name of God and was followed by BJP veteran L K Advani.
Several Union ministers took oath in Hindi in the name of God, with Sushma Swaraj, Uma Bharti and Harsh Vardhan taking oath in Sanskrit. . Sonia Gandhi made the affirmation in Hindi and so did Minister Ram Vilas Paswan.
Several ministers preferred to take oath in their mother tongue, including D V Sadananda Gowda, Ananth Kumar and G M Siddheshwara, who took oath in Kannada. Sarbananda Sonowal took oath in Assamese and Jual Oram in Odia.
Senior members Arjun Charan Sethi (BJD), P A Sangma (NPP) and Biren Singh Engti (Cong), appointed on the Panel of Chairpersons by the President to help the Protem Speaker in oath taking process, took oath after Prime Minister Modi, Advani and Gandhi. . Cold vibes between Sonia Gandhi and Maneka Gandhi were visible during the oath taking as both exchanged pleasantries rather reluctantly.
Protem Speaker Kamal Nath was the only member who had taken oath yesterday as the House was adjourned on the first day of the new Lok Sabha following death of Minister Gopinath Munde on June 3.
Before initiating oath taking process, Nath welcomed all members, especially those of newly-formed Telangana and residuary Andhra Pradesh.
After oath taking by members of the Council of Ministers and members from Andaman and Nicobar and Andhra Pradesh, the Protem Speaker called former Prime Minister H D Deve Gowda and two former Deputy Speakers Karia Munda and M Thambidurai to take oath.
The Prime Minister was present till the members of his Council of Ministers took oath.–PTI