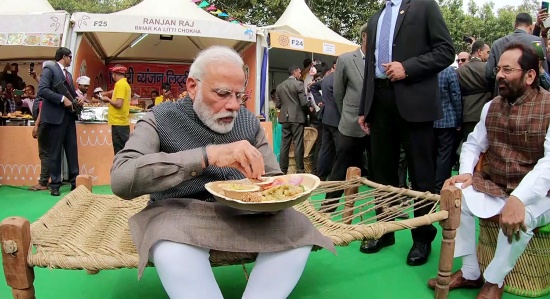 NEW DELHI: Twitterati were left impressed on Wednesday as Prime Minister Narendra Modi made a surprise visit to 'Hunar Haat' on Delhi's Rajpath, where he interacted with artisans and relished 'litti-chokha' and 'kulhad' tea.
Taking to his Twitter handle, Modi shared the photos of his surprise visit and tweeted, "Had tasty Litti Chokha for lunch along with a hot cup of tea… #HunarHaat".
In the shared post, Modi can be seen enjoying a plate of the traditional dish 'litti-chokha', which is popular in Bihar, Jharkhand and parts of eastern Uttar Pradesh. He later had tea served in a 'kulhad' or earthen cup.
For the uninitiated, 'litti-chokha' is a traditional dish where the litti is made of whole wheat flour, stuffed with sattu (powder made out of black chana), herbs and spices and baked over coal or cow dung cakes and then finally drizzled with desi ghee, while chokha is a mashed relish that is served with litti.
Modi also shared the same picture on his Instagram account with the caption, "Had excellent Litti Chokha for lunch. Have you tried this delicacy?"
So obviously, his tweet went viral and Twitterati have flooded the social media with their reactions. A user wrote, "Our country is blessed with wide range of culture…Enjoy the diversity! Enjoy traditional food of different geographical regions!"
Another wrote, "Sir, Litti Chokha ka maza Bihari ke saath khane mei hi hai…Kabhi humare saath khaiye." A post read, "Thank you Modi Ji for promoting regional cuisine as well as for supplying new meme material."
"Chalo Bihar elections ki tayyari shuru," a user remarked. IANS