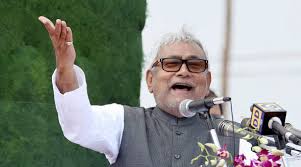 PATNA/MUMBAI: RSS chief Mohan Bhagwat's call for review of reservation policy faced more flak with poll- bound Bihar Chief Minister Nitish Kumar today dubbing it "dangerous" and used it to attack BJP alleging that the party's ideological mentor was "like its Supreme Court."
The attack by the JD (U) leader came even as key BJP ally Shiv Sena welcomed Bhagwat's call and took potshots at the saffron party for rushing to disown the views of RSS, saying the party appears to be wary of an "electoral jolt" in Bihar.
Hitting out at BJP and RSS, Kumar, a senior JD (U) leader, accused them of being against reservations and said the RSS was seeking to install an "extra-constitutional" body to review reservations.
"It is clear that he (Mohan Bhagwat) feels the current policy of reservation is not right and wants some other system," Kumar said, while reading out excerpts of Bhagwat's interview to RSS mouthpiece 'Organiser' and 'Panchjanya'.
"Any amendment in Constitution can be done in Parliament.
They want somebody other than the Constitution, an extra-constitutional authority, which should look into who should get reservation and how long.
"Not in the Constitution or in Parliament but in the hands of the elite committee. It is a very dangerous view. It cannot be accepted," he told reporters in Patna.
Questioning BJP's stand on reservation, he said whatever the ruling party may say it cannot go against the views of the RSS.
"The BJP has a government at the Centre, which has repeatedly claimed that they are proud to be Swayamsevaks.
"RSS view is final. Whatever BJP might say, it has no meaning. Like anything is decided by the Constitutional bench of the Supreme Court, it is final and there is nothing after that. The same way in RSS, if RSS chief says something then BJP has no say.
"The BJP is a political outfit of RSS and Swayamsevaks and pracharaks are part of this government. Whatever Bhagwat has said is final and there is no other thought," Kumar said.
Shiv Sena said the politics of poll-bound Bihar must have been behind BJP's response to Bhagwat's call.
"Political parties who call themselves as saviors of the victimized class have vehemently opposed Bhagwat's comments.
While attacking Bhagwat, they have their eye set on Bihar polls. Even the BJP called a hurried press meet and distanced itself away from his comments. It seems that the politics of Bihar must have been behind BJP's response to Bhagwat," Sena said in an editorial in its mouthpiece 'Saamana'.
"Questions have now been raised over BJP's attitude towards the RSS," it said.
The Sena said Babasaheb Ambedkar too had called for a review of the reservation guaranteed by the Constitution after 10 years depending upon the prevailing circumstances. Bhagwat had only supported Ambedkar's views, it noted.
"BJP has distanced from Bhagwat's views for political reasons. But we (Sena) have nothing to do with it. Bhagwat has only said what people feel and we welcome his stand," the Sena said.–PTI