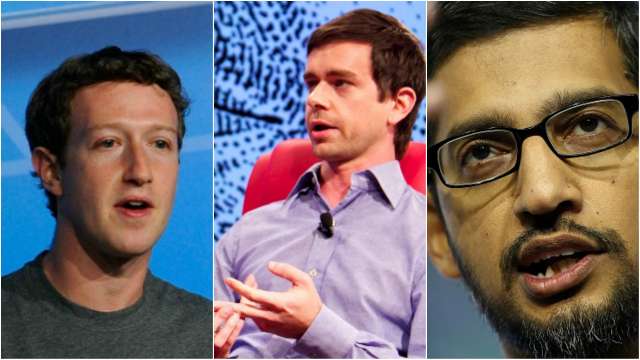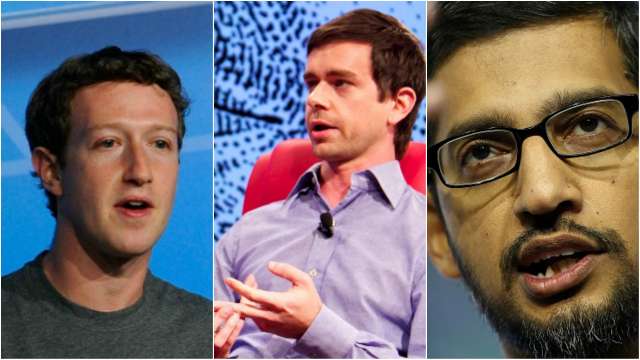 WASHINGTON: A powerful Congressional committee has summoned the CEOs of the top three tech giants – Facebook, Twitter and Google – to testify next month about UK communications firm Cambridge Analytica's misuse of private data from up to 50 million user profiles.
Mark Zuckerberg of Facebook, Indian-American Sunder Pichai of Google and Jack Dorsey of Twitter have been invited to testify before the Senate Judiciary Committee scheduled for April 10 by the Committee's Chairman Chuck Grassley.
In a statement, Grassley said yesterday that Zuckerberg had been invited to discuss the company's past and future policies regarding the protection and monitoring of consumer data.
The hearing will broadly cover privacy standards for the collection, retention and dissemination of consumer data for commercial use.
"It will also examine how such data may be misused or improperly transferred and what steps companies like Facebook can take to better protect personal information of users and ensure more transparency in the process," a statement said.
Grassley also invited Pichai and Dorsey to discuss the future of data privacy in the social media industry and how to develop "rules of the road" that encourage companies to develop tailored approaches to privacy which satisfy consumer expectations while maintaining incentives for innovation.
Senator Mark Warner also sought answers from the tech companies on data protection.
"I celebrate the success of Facebook, Google & Twitter; but with their power come responsibility that they must acknowledge. This isn't a Russia problem. If we value civic discourse and fair elections, they have to step up and answer to more than their shareholders," he said.
Senator Ed Markey said Facebook's failure to protect millions of Americans' private information in the Cambridge Analytica breach showed "why we cannot rely on corporations" to police themselves.
"We need laws that prevent corporations from abusing Americans privacy rights," said Markey.
Meanwhile, online news publication 'Intercept' reported that the US Immigration and Customs Enforcement used backend Facebook data to locate and track immigrants that it is working to round up.
Congressman Bobby L Rush has introduced a legislation that would require the Federal Trade Commission (FTC) to issue regulations requiring companies like Facebook that own or possess data containing personal information to establish specified security policies and procedures to treat and protect such information.
The FTC confirmed last week that it had opened an inquiry over the alleged misuse of data by the UK consulting group Cambridge Analytica, the scandal-hit communications firm at the heart of the Facebook data scandal. -PTI