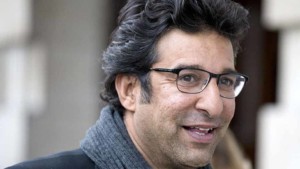 ST MORITZ, Switzerland: Pakistan pace legend Wasim Akram is quite impressed with Indian fast bowlers and feels they can be lethal in this year's tour of England if Mohammed Shami corrects a run-up flaw and Jasprit Bumrah devotes some time to county cricket.
One of the greatest fast bowlers of all time and inarguably the best left-arm pacer to have played the game, Akram dissected the current Indian bowling attack, which he feels has gained in confidence unlike the teams of earlier era.
"Shami is a good bowler but sometimes I feel he is a bit laidback. As a fast bowler, irrespective of the match situation, he should just sprint in and try to hurry the batsmen, who have a frontfoot trigger movement," Akram told PTI on the sidelines of the St Moritz Ice Cricket Tournament in Switzerland.
Asked to elaborate on the technical aspects, Akram explained that Shami's erratic strides at times hinder his consistency level.
"During his run-up, Shami, at times, tends to take small strides before his final load up to the crease. Now when he is in rhythm, his strides are correct and equally measured but moment he gets a bit wayward, his strides get smaller. It should always be the opposite.
Akram said smaller strides result in a loss of pace.
"When the length of the stride decreases, a person's bowling action doesn't get completed. The force that is generated from the back goes missing and one loses out on a lot of pace," said Akram, who picked 414 Test and a whopping 502 ODI wickets during his 19-year international career.
But Shami has had a history of a dodgy knee and Akram agreed that it indeed was a genuine concern.
"That will be an issue with Shami. If you look at Shoaib Akhtar, he struggled with a dodgy knee. I suppose he has to work on the lower body muscles.
"He (Shami) is a strong lad and has played fair amount of international cricket to know how he should be working on his body, so he can play for India for at least 10 years," said Akram, who is here as a commentator of Ice Cricket Challenge.
Michael Holding recently commented that Jasprit Bumrah is unlikely to be a big success in England due to his hit-the-deck action but Akram feels that it is something that can be worked upon.
"I agree with Mike that you can't hit the deck on English surfaces but that would only come with experience. Look the BCCI doesn't allow the Indian boys (main international stars) to play county cricket.
"If Bumrah plays at least a month of county every year, trust me, he will be a better bowler. But then Indian board has to tell Bumrah that forego a month's IPL and play county cricket," said Akram, who attributes his transformation from a raw talent to a world beater to the days he had spent as a pro with Lancashire.
But he certainly agrees that Bumrah will get better with more experience.
"He has had a good start to his Test career after starting off as a T20 specialist. So it's a kind of change in mindset that is slowly happening for him. If people are talking about not having an outswinger, I won't be bothered much.
"But if Bumrah can learn how to straighten the ball after pitching coming from wide off the crease, more often than not, it will be his wicket-taking delivery. He just needs to use a bit of wrists for that," the 'Sultan of Swing' made it sound easier than it actually is.
For him, Bhuvneshwar Kumar is the best Indian fast bowler on view.
"Bhuvneshwar Kumar has been the most impressive pacer in South Africa as far as my assessment goes. He was getting the ball to swing both ways. And with increased pace now, he has become all the more effective," Akram said.
Another factor that would work for India during the August tour, according to Akram, is that Dukes will be used in England.
"This Indian pace attack has potential to do well in England. They were very impressive in South Africa with the kookaburra which is a difficult ball to bowl with so Dukes which does a lot after pitching will be an easier for them," he concluded.-PTI