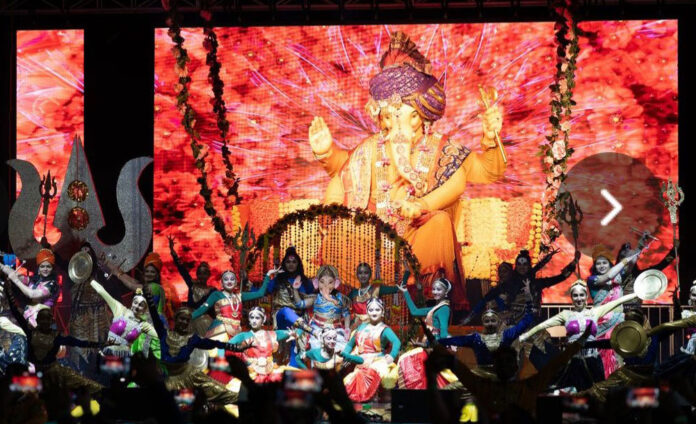 Vidya Sethuraman
India Post News Service
On Sep 23 and 24, 2023 many thousands of devotees gathered to celebrate the Ganesha festival at the Newpark Mall, Newark, CA, organized by Radio Zindagi 1550 am. The festival celebrates the Hindu holy day Ganesh Chaturthi, also known as Vinayaka Chaturthi or Ganesh Chauth.  Ganesh Chaturthi celebrates the Hindu deity Lord Ganesha, who is worshipped as the god of new beginnings and the remover of obstacles.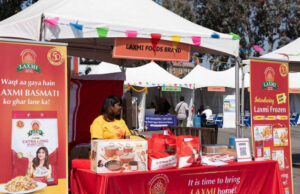 A 15-foot Lord Ganesha idol was placed on a specially decorated stage, and daily rituals were performed by a priest.
A beautifully crafted idol of the deity was installed in the pandal, which was decorated in festive attire with traditional garlands.  On the last day, September 24, Ganesh Visarjan was done by immersing a smaller 2-foot idol into a small pool of water.
The event featured dance and music performances of over 1200 kids and adults from all over the Bay area. The colorful Indian culture too, was on full display among the devotees who thronged the sanctum dressed in traditional attire.
Sehba Shah, part of the organizing committee of the event, described the amount of effort that went into organizing the event, which drew thousands of attendees during the weekend. "It is really a blessing to have such a magnificent idol out here, and the volunteers are doing such a good job here it's really amazing. The sponsors are very gracious, and thanked them for their continuous support.
Neeraj Dhar, organizer of this annual event said the rich and diverse Indian culture has made its ways across continents bringing together people of all diversities.
All of the efforts taken to plan and execute this event and bring it to such great fruition was the work of Radio Zindagi 1550 am and volunteers offered their time to make sure the event succeeds and devotees get to fulfill their wishes of praying.