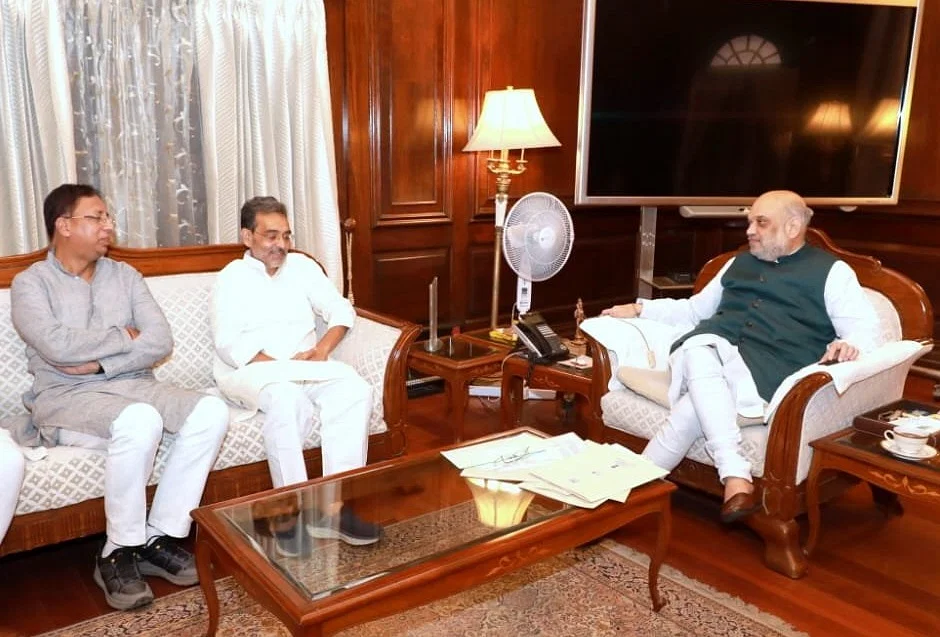 NEW DELHI: Rashtriya Lok Janta Dal (RLJD) president Upendra Kushwaha met Union Home Minister Amit Shah at the Ministry of Home Affairs (MHA) office in the national capital on Thursday evening.
RLJD secretary general Madhaw Anand and Bihar's former BJP president Sanjay Jaiswal were also present at the meeting, which went on for about 45 minutes.
According to sources, Kushwaha is likely to join the BJP-led National Democratic Alliance (NDA) soon.
Sources told ANI that Shah's meeting with Kushwaha was a purely political one, with both leaders discussing the prevailing political scenario in Bihar after Chief Minister Nitish Kumar-led JDU separated from the ruling alliance with the BJP last year and joined hands with the Rashtriya Janata Dal (RJD) to form the government.
This was Kushwaha's first meeting with the Union Home minister after he quit the Janata Dal (United) and floated his own party, the RLJD.
Sources further told ANI that Kushwaha agreed to join the NDA and the fight of the saffron party to unseat the Grand alliance government of Nitish Kumar and Tejashwi Yadav in Bihar.
Speaking to ANI, Madhaw Anand, secretary general of the RLJD who was present at the meeting with Shah, said, "It was a courtesy meeting. Whenever two leaders meet, the political issues of the day do come up for discussion. So, I won't say that the political scenario in Bihar wasn't discussed at the meeting today. The discussions revolved around state politics and the all-round development of Bihar. Home Minister Shah shared his plans for the development of Bihar."
On whether the possibility of an alliance between the RLJD and the BJP in Bihar was discussed, Anand said, "Politics is the art of the possible. We are against the policies of Nitish Kumar. But as of now, there are no discussions on joining the NDA. However, what we can say for sure that the Home minister has a clear vision for Bihar's development. This bodes well for the state and its people."
With Nitish's JDU now out of the NDA and in alliance with the RJD, the BJP faces a tough challenge to replicate its 2019 performance in next year's Lok Sabha polls and Kushwaha's switch to the NDA could boost its prospects in the general elections. (ANI)