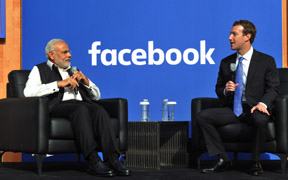 SAN JOSE: Projecting India as a "heaven" for investors, Prime Minister Narendra Modi said here his government is working on deregulation and ensuring 'ease of doing business' as he aims to convert the country's economy from 8 trillion dollars to 20 trillion dollars.
In a Townhall Q&A at the Facebook Headquarters here along with its CEO Mark Zuckerberg, Modi spoke about efforts to revive the faith among foreign investors, saying reforms are taking place speedily and the government had managed to "restore the lost confidence" during the last 15 months as he appeared to take a dig at the previous UPA dispensation.
He said his government was laying thrust on three sectors particularly – agriculture, services and manufacturing – along with building the physical and digital infrastructure simultaneously.
During the 45-minute session, he also spoke in detail about the benefits of social media, particularly how it has been useful to him to connect with the people within the country and abroad, and how it can help take corrective steps if some government steps go wrong.
"It is my dream to convert Indian economy into USD 20 trillion from the present USD 8 trillion," Modi said in presence of the audience, which mostly constituted of Indians.
Noting that India is a "heaven" for investors, he said, "I do not believe that there is dearth of money. Countries have money but do not know where to invest. I am giving them the address. Here is the place (India).
For the Townhall Q&A, 40,000 questions and comments had been received but Modi answered only six, of which two were from Zuckerberg, during the 45-minute session.
Talking about the results of his government's efforts, the Prime Minister said that FDI from the USA alone had gone up by 87 per cent in the last 15 months and FII was also increasing.
"Despite global recession there is 40 percent growth in FII. Make in India is going to be successful," he said.
"India has 3Ds which are its unique strength – Demographic dividend, Democracy and Demand. I have added new D Deregulation. My philosophy is that government has no business to be in business. It is not government's job to run a hotel. Let a businessman run it," he said.
Speaking about the ease of doing business, he said his government had taken on board the states in this regard as India is a federal country. He said the states are now engaged in "unprecedented" competition in the context of reforms and ease of doing business.
"The World Bank last time rated India at 140th position in terms of ease of doing business. However, recently it did a rating of states… I am confident that by the time, the World Bank does the rating again at the national level, India will be much above than 140th position," Modi said.
The Prime Minister said he was aspiring to connect 6 lakh villages of the country with optical fiber network in five years as he understands the importance.
"Earlier, humans used to settle along the rivers. Later habitations used to take place along the highways. In future, people will settle down along the places having optical fiber lines," he said.
Modi said, "In the last 15 months, the perception about India has changed. We have regained the lost confidence. This I believe will bring change."
He said when he adopted social media, he never thought that he would one day become the Chief Minister or Prime Minister but was just curious to know the world.
"Social media helped me gain information about the world.
This brought a big change in my thought process. This connected me with the world and the world accepted me as I am," said Modi while noting that he was not much educated and came from a poor background.
While explaining the benefits of social media, he said, "Government has a problem, there is usually a gulf between government and the people. By the time, you realize that, the five years (term) is over.
"But the power of social media is such that you know about reactions instantly. There is instant voting on decisions because of social media. If some decisions are wrong, they can be corrected. Earlier, it could happen only after five years.
"This is why I tell leaders all around the world, don't run away from social media…Get connected. Good governments run on feedback. For realtime feedback, social media is a great help and if a government is alert, it can take corrective measures and speed up work."
Modi said India has to emphasize on physical and digital infrastructure. "Highways and I-ways are equally important," he said, adding that in view of the situation in India, these could not be done one after another but simultaneously.-PTI