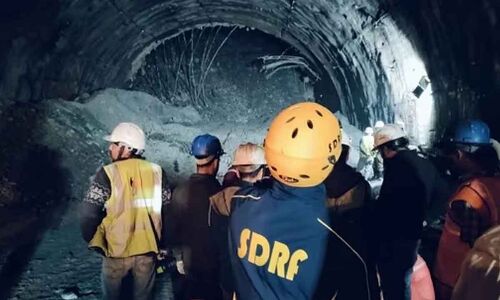 UTTARKASHI: The National Disaster Response Force (NDRF) and other teams engaged in the rescue operation at the site of the collapsed under-construction tunnel in Uttarkashi, hope to evacuate the 40 workers trapped inside the tunnel by today evening.
Karamveer Singh, NDRF Assistant Commander said that plaster had been done for 200 meters from the starting point of the tunnel but there was no plaster beyond that, which became the main reason for this collapse.
"Since yesterday, 10-15 meters more excavation has been done. People trapped inside have been given food and water. By this evening, we will make every effort to ensure that all these people come out safely. There are 40 people inside and all of them are safe. Plaster has been done for 200 meters from the starting point of the tunnel but there is no plaster beyond that, hence it has suddenly subsided. When the machines are working, debris is falling from above, which is causing some trouble," he said.
The NDRF teams say they have been able to establish communication with the trapped workers and all of them are in a safe position.
Rescuers say the teams still have to clear about 35 metres of debris more to reach the location of the 40 trapped workers.
Prashant Kumar, Circle Officer of Uttarkashi told ANI "The debris is about 60 meters deep. As we are clearing the debris, it is falling from above. The present situation is, that yesterday we established communication with the people trapped inside the tunnel. We have moved around 15 metres inside the tunnel, and around 35 metres are still to be covered. Everyone is safe, we have provided oxygen and water to them. We are making our way sideways to go inside the tunnel. After establishing communication, around 40 people are trapped inside."
On Saturday, a part of the tunnel broke about 200 meters ahead of the starting point on the Silkyara side of Brahmakhal-Polgaon.
Teams of SDRF and NDRF along with police personnel are conducting relief and rescue operations on a war footing to evacuate the people trapped inside the tunnel. (ANI)
Also Read: Govt sanctions two new battalions to NDRF