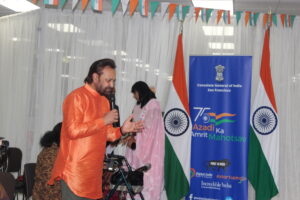 Vidya Sethuraman
India Post News Service
In a "historic moment", the 100th episode of Prime Minister Narendra Modi's monthly radio program 'Mann Ki Baat' was broadcast live at FalconX center in Milpitas, heart of Silicon Valley at 10:30 pm on saturday. The event was hosted by Consulate General of India, San Francisco and was attended by hundreds of Bay area Indo-Americans including many community leaders and entrepreneurs. It was 10:30 pm in the San Francisco Bay area when the 100th episode of PM Modi's Mann ki Baat was broadcast live at Milpitas. But despite the late hours, the event saw enthusiastic participation by the members of the Indian community.
#MannKiBaat has become a monthly national tradition, inspiring millions to participate in India's developmental journey, said Ambassador Dr TV Nagendra Prasad, CGISF. Before the live broadcast, the CGISF team interacted with the community members and answered their queries on consulate processes. Dr Prasad commended the Indian community for being a living bridge between the two countries and for their contributions in strengthening the historic bonds of friendship between India and US.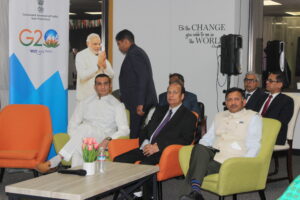 Addressing the 100th edition of 'Mann Ki Baat' on Sunday, an emotional Prime Minister Narendra Modi said this program has acted as a catalyst for mass movements. "Be it 'Beti Bachao Beti Padhao', or 'Swachh Bharat', the love for Khadi, or 'Azadi ka Amrit Mahotsav', the program has helped these turn into people's movements. This program has ensured that I am never cut off from you.", added PM Modi. In this special episode, Prime Minister Narendra Modi interacted with UNESCO Director-General Audrey where the latter asked questions on education and cultural preservation in India.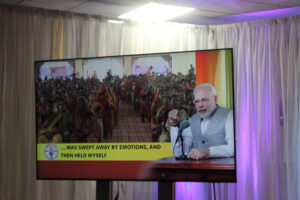 The radio program, which started on October 3, 2014, has become a key pillar of the government's citizen-outreach program addressing multiple social groups such as women, youth, and farmers and has spurred community action. Over the subsequent years, Mann ki Baat encompassed a multitude of topics such as weather, environment, cleanliness, various social issues and even examinations. Apart from 22 Indian languages and 29 dialects, Mann Ki Baat is broadcast in 11 foreign languages including French, Chinese, Indonesian, Tibetan, Burmese, Baluchi, Arabic, Pashtu, Persian, Dari and Swahili. Mann Ki Baat is being broadcast by more than 500 broadcast centres of All India Radio.