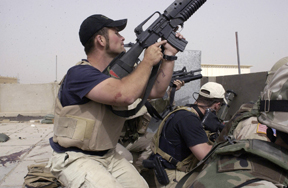 NEW DELHI: Sixteen Indians stranded in violence-affected areas of Iraq have been evacuated and one of the 40 kidnapped Indians has escaped from captivity in Mosul town even as government said it was "knocking at all doors" to rescue its citizens.
As concerns mounted for the kidnapped Indians and 46 nurses trapped in Tikrit, Government said it was making all out efforts and was in touch with a number of countries in the region besides Iraqi authorities to resolve the crisis.
Prime Minister Narendra Modi reviewed the situation at a high-level meeting which was attended by External Affairs Minister Sushma Swaraj, Home Minister Rajnath Singh, National Security Adviser Ajit Doval Cabinet Secretary Ajit Seth, Foreign Secretary Sujatha Singh and heads of intelligence and security agencies.
External Affairs Ministry spokesperson Syed Akbaruddin said the meeting reviewed the "entire dimensions" of the situation taking into consideration all facts and information available to the government.
"We are knocking at all types of doors, front, back, trapped," the MEA spokesperson said when asked whether negotiations had been initiated with the militants who kidnapped the Indians.
Asked whether government was considering flying them as well as those stranded in conflict zone, he said, "when lives of our nationals are involved no option is off the table".
He said one of the kidnapped Indians has fled from the captors and is in touch the embassy in Baghdad while all those in captivity were "safe".
The 40 Indian construction workers were kidnapped in from Mosul, Iraq's second largest city which was seized by Sunni militants.
Eight Indians have been moved out of trouble-torn Baiji while eight others, who were working with Lanco at its project in Anbar were also evacuated. All them were first brought to Baghdad and then traveled out of the country, said the spokesperson.
The government is in constant touch with the 46 nurses stranded in Tikrit town, which was also taken over by Sunni militants. . Akbaruddin said Indian officials were in regular touch with the nurses trapped in a hospital.
There is electricity in the hospital and arrangements for food have been made. Nobody intruded the hospital and they felt that the situation there was "quiet" as there was no gunfire, he said.
"We are making every effort so that it is resolved at the earliest," he said refusing to share more details on an "extremely sensitive operation".
He said at least 120 Indians were trapped in strife-torn areas which included 46 nurses in Tikrit and those kidnapped in Mosul. 16 have already been moved out of Anbar and Baiji.
The Indian mission in Baghdad was in touch with various other diplomatic missions there to coordinate efforts to rescue the Indians.
The government has also decided to provide financial assistance through Indian Community Welfare Fund to those Indians who are indigent and want to return to India.
India has also requested Iraq to lift restriction on the visa norm that if a person comes to the country through a port of entry then he will have to go back though the same port of entry. He said India hoped that the matter will be sorted out in a day's time.
"This has caused some concerns to those of our nationals who have come through certain ports of entry but would like to go through other ports of entry. We have taken this up with the Iraqi authorities who are amenable to our request," Akbaruddin said.
The issue has been taken up with Iraqi authorities so that trapped Indians can cross Iraqi border to neighboring countries through nearest land boundary.
Instructions have also been issued to Indian missions in countries around Iraq to take up the matter with their host governments to facilitate movement by those who wish to cross the land boundary from nearest place of their stay.
"We have informed all our missions in the region to work on this matter with their respective governments to ensure that in case people want to cross land boundary they should be assisted," Akbaruddin said.
The government has also stopped issuing immigration clearance for travel to Iraq for next one month. Emigration clearance for certain categories of Indians is required in 17 countries of which 12 are in the Gulf region including Qatar, Oman, Kuwait, Bahrain, UAE, Saudi Arabia and Sudan.
On safety of kidnapped Indians, the MEA spokesperson said information collected by the government from multiple sources have indicated that all the kidnapped Indians are "safe".
"This information is coming to us not from one source but from a multiplicity of sources. Based on that, I can indicate to you that the Indian nationals who have been abducted remain safe," he said.
The External Affairs Minister held a meeting earlier in the day to review the situation.
On evacuation of remaining trapped Indians, the spokesperson said the land routes are extremely difficult to use to bring anybody from the conflict zone.
"That's a major issue in terms of bringing out people from the conflict zone. There is no issue about logistics and willingness," he said.
The government was also in touch with various humanitarian agencies, the UN Assistance Mission in Iraq (UNAMI) and Iraqi government to gather more information about its citizens.
Iraq is witnessing serious strife with Sunni militants, backed by Al-Qaida, capturing two key cities and marching towards Baghdad. Hundreds of thousands of Iraqis have been displaced in the fighting that broke out on June 10. The kidnapped Indian, who had managed to flee from captivity, is from Punjab, sources said.
The person has given some information about the abductors to the Indian authorities, they added.–PTI