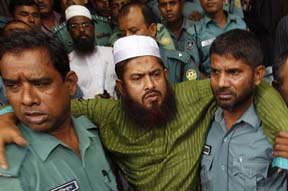 DHAKA: Eight HuJI militants, including its chief, were today sentenced to death by a Bangladeshi court for a 2001 bomb attack targeting Bengali New Year celebrations that claimed 10 lives.
"They shall be hanged by the neck till they are dead," Additional Metropolitan Judge Ruhul Amin pronounced in a crowded courtroom as detained Harkat-ul-Jihad al-Islami (HuJI) Chief Mufty Abdul Hannan and seven others appeared in the dock under heavy security vigil.
"The attack was carried out to destabilize the country and create panic," Amin said.
The court also handed down life imprisonment to six others, three of them still on the run. Hannan along with seven others faced the trial in person after arrest.
A prison van escorted by several police cars brought the detained militants to the court complex here.
Armed police contingents and security officials in plain clothes kept a sharp vigil, allowing people inside the court only after thorough security checks.
The HuJI operatives carried out the bomb attack in 2001 in Ramna Batmul here as people were celebrating the Bengali New Year 'Pahela Baishakh' which the militants claimed was "anti-Islamic".
The court indicted the outlawed HuJI chief and 13 others for the blasts on April 16, 2009, and subsequently recorded statements of 61 prosecution witnesses.
The United States has designated HuJI as a foreign terrorist organization.
The 2001 bombing case was the second major charge that brought HuJI men in dock after police in June 2008 formally pressed charges against 21 HuJI operatives and an ex-junior minister of the then BNP government for a grenade attack on Awami League chief Sheikh Hasina on August 21, 2004.
Hasina narrowly escaped the attack but a total of 24 people were killed.
The banned outfit is also believed to have carried out several other blasts including an attack on a Communist Party rally in 2005 in which five people were killed.
Bangladesh-born former British envoy in Dhaka Anwar Chowdhury had escaped that attack sustaining minor injuries.
HuJI announced its emergence on April 30, 1992, in Bangladesh when its operatives wearing sleeveless olive combat jackets over 'shelwar-kameez' held a news conference and described how they had fought in the previous Afghan war.
They had demanded that Bangladesh be turned into an Islamic state of their brand.–PTI